A few years ago, I had Rita Konig on the blog for a week to share short tidbits of decorating advice. The two ideas that stuck with me the most were: "The wall colour and the curtains are simply the canvas on which to build the rest of the room, the decoration comes as much from the things in a room rather than from the items that we traditionally think of as the 'decoration'." and "It doesn't necessarily follow that if everything in the room is beautiful you end up with a beautiful room. I think the best rooms are those that have a mix of things and an ugly lamp with a crooked shade, or an inherited table or the rug from your childhood bedroom. These are the things that add texture and life to a room."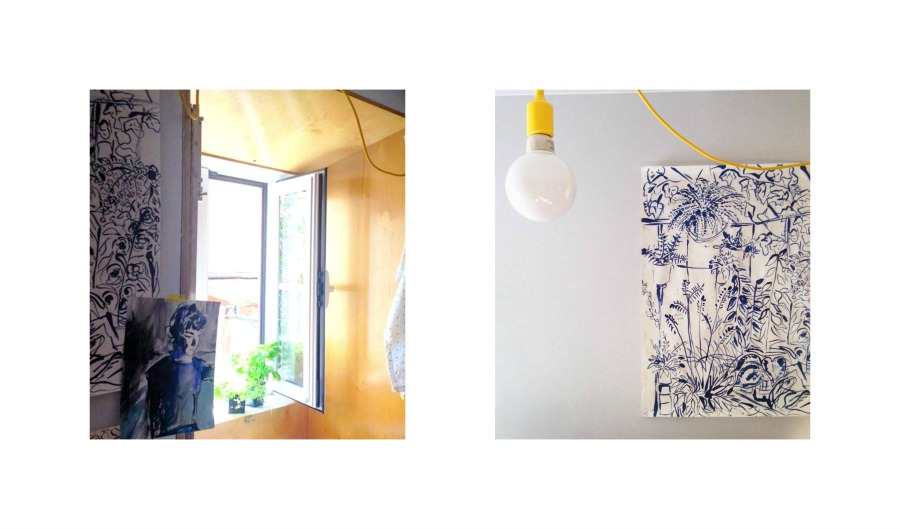 Since then, I´ve tried not to get too upset with wall colors and little things that used to bother me a lot with rentals. This time around, I actually have rented a furnished apartment, which is such a great deal but I miss being able to collect my own items (which I will slowly, over time). So I´ve really learned first hand that what makes a home are the little cozy items like plants, and art and a taped up Polaroid from home. And also, to be honest, I used to be a super design snob, and I don't care quite as much anymore. Perhaps its my time living on the road, or just getting older (I find that age makes me less concerned with some things). That said, I am still sort of a visually sensitive person and feel good in a pretty space but freaking out over details just doesn't happen as much. Plus, it's usually not in the budget to decorate like I dream. So, I've learned it can be just as much fun to make do with what you have and work within your budget. Here are a few of my favorite ways to make a temporary or impersonal space feel like home.
1. Decorate with original or vintage art in a temporary way. I can´t make holes in the walls of my rental so I tape it up with washi tape and it does the trick. I love having art from my favorite artists on the walls and this makes it so easy to switch out when I want to change things up. For shoots I've always used the 3M adhesive hooks which are great if you are looking for a temporary way to hang art! I´ve come to love the casual, bohemian look of unframed, taped up art work and photographs, though.
2. Plants and flowers. I try to pick up little herb plants when I grocery shop. They really can make a kitchen space come to life, and between that and foraged flowers, they just add happiness to any room. I love having fragrant flowers in the bathroom, and bright flowers on the windowsill. A bowl of fruit and veggies in the kitchen with a pot of herbs makes any place feel like home!
3. Hang up an apron or other little collection. I have two special aprons one from Crete and one from Buenos Aires, and they seem to just add this cozy factor to every kitchen I hang them in. Yes, I actually wear them too.
4. Make pretty little vignettes. I love to keep a pretty stack of books, a pen, and notepad, flowers by my bedside. These little stories around a house are really what make it feel like a home.
5. I use baskets like crazy to organize (or, let´s be honest, dump and hide!). They serve as decor but also as a way to keep clutter out of sight.
I´ve found a benefit of decorating in this "temporary" way is that I am constantly changing things up with the seasons. Changing out artwork, flowers, plants, and re-styling my little vignettes whenever I clean!
How do you make your space feel like home?
Here are some temporary spaces I styled as I lived on the road, and also my Portland apartment.
A Minimal Apartment in Portugal's Alentejo Region
Living like in Artist in Lisbon´s Alfama Neighborhood
P.S. I thought this essay on Design Mom about a diplomat living abroad was super fascinating and I could relate to the feeling of never having a permanent home.
Photos: Chelsea Fuss. Artwork in 2nd collage by Lucy Auge.