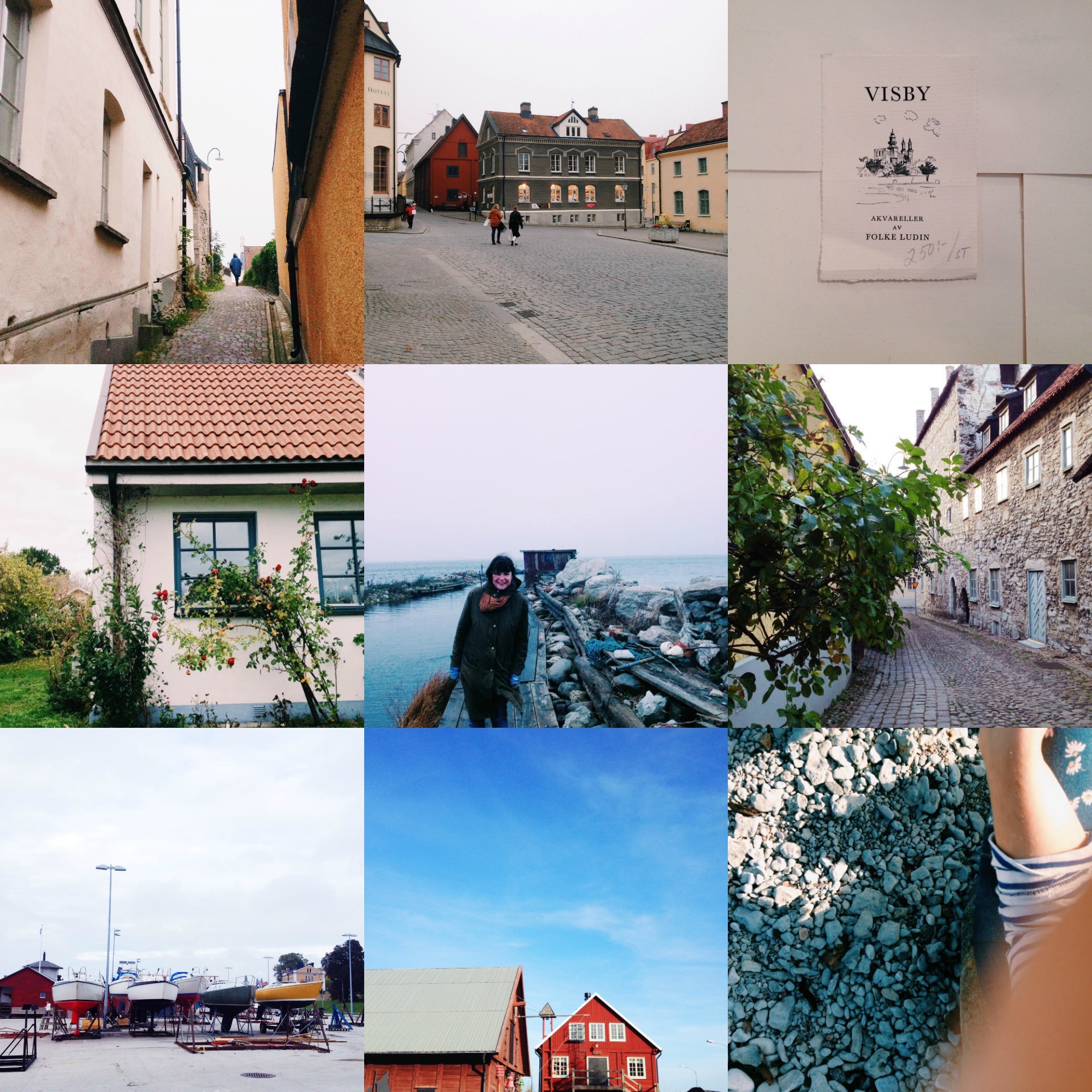 Here's a round-up of just a few favorites from Gotland, where I spent October. I have to admit, the main thing I did there was fika! I left 10 pounds heavier, I am sure of it. Where's Gotland you ask? Gotland, is the largest island in Sweden, it's off the East Coast. Take the bus from Stockholm central to Nynäshamn and then catch a 3 hour ferry to Visby, Gotland's largest town, and there you are!
The island captured my heart and soul for sure. I have a thing for Northern islands. As much as I claim to yearn for a warm California climate, there's no denying my New England and Pacific Northwest roots which means a love for fog, crisp breezes, rocky coastline, and forests. While in Gotland, I hibernated, I cooked, I baked, I walked through forests and along the sea. My friend Maria, brought me out of hibernation and acted as a tour guide to her special island. I mostly spent time in Visby, the largest city. It's a walled city filled with cafes, charming shops, and amazing ruins of churches abandoned during the reformation. I love the vibe there. Though it's a small place there was diversity in age, and I sensed a lot of cool things happening. Here are a few of my favorites. If you have some favorite Gotland sites, leave a comment and share!
Visby Creperie + Logi: From the owners of Granit, is this adorable little crepe restaurant. The interior is gorgeous, all in blacks, white, and grey with sheepskins on the chairs. I ate a crepe of wild berries, red onion, and salmon. So delicious and the perfect Swedish twist on a French crepe.
Leva Kungslador: An organic farm, bakery, cafe, and more!
H10– A lovely cafe. Super cozy and a great place to work from. There's a gorgeous design store next door with awesome Swedish ceramics and house goods.
Hedburgs Bok och Musik Cafe: I came here one night with the sniffles and was fed the most glorious saffron and potato soup. It was healing! The cafe is so charming, filled with books, and knick knacks, and a fun medieval cellar you can hang out in.
Bersa Butik: Go to Bersa Butik for a glorious fika with pastries and desserts made by Maria's lovely mom and tell them I sent you:) Maria will tell you all the best spots to visit on the island and you'll love perusing her gorgeous home goods shop which is a favorite of Swedish stylists. It's a long walk or a quick bus ride from Visby's bus station.
Fårö: Amazing island, home of Ingmar Bergman. A must see! Visit the historical fishing village!
Gula Huset: Maria tipped me off to this amazing little cafe! It's like stepping into someone's living room and quintessentially Swedish. It's only open odd hours so be sure to check it out first! The baked goods are to die for!
Fab Visby: Go here for flowered salts, and Gotland made ceramics!
Backfickan Visby: This is one of those special places you almost don't want to share. Maria brought me here and just the atmosphere is not to miss! The food! Ah! Delicious fish and traditional Swedish and special to Gotland touches.
Snaps from my Instagram. Thanks to Maria of Bersa Butik and all the other sweet blog readers who sent tips my way! I can't wait to return to Gotland this summer!
More posts you might enjoy:
My Life as a Nomad: 6 Months on the Road
15 Favorites from Buenos Aires
A Frolic! Travel Guide: Spreewald