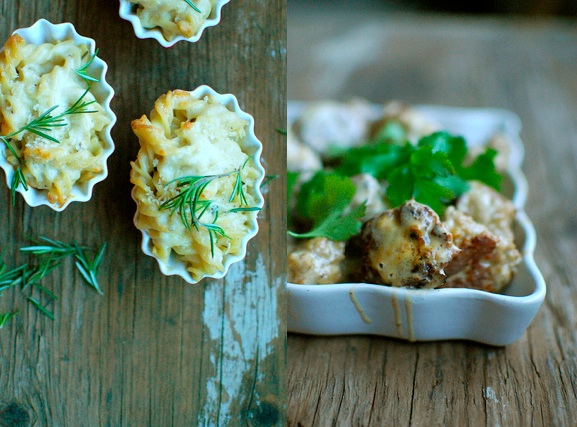 I was lucky enough to indulge in all these delicious treats on Sunday night when Lizzy whipped up a collection of winter tapas for a small gathering at her place. Head over to Lizzy's blog for more details.
 Winter Tapas Menu by Elizabeth Fuss:
Kalamata Olives marinated in orange juice, orange zest, fennel seeds, rosemary, and red pepper flakes. (After eating these I vow to never purchase deli olives again.)
BLT Lettuce Wraps with Secret Aardvark Mayonnaise (Such a genius idea for a healthy take on the BLT!).
Spicy Turkey Meatballs with a Chili Pepper Cream Sauce
Roasted Fingerling Potatoes with Homemade Paprika and Meyer Lemon Aioli
Roasted Shrimp with Ina Garten's Cocktail Sauce
Rosemary and Thyme Macaroni and Cheese
Recipes by Elizabeth Fuss except where noted. Photos by Chelsea Fuss.