I wanted to share some before photos of my house so you'll be able to see a difference once we have all the little changes done. This is my living room which is also my bedroom now too. The room behind those French doors is now my office/studio. These first two photos are from a dinner party last spring. I have such a small amount of furniture, I can actually use the living room like an event space! Ha!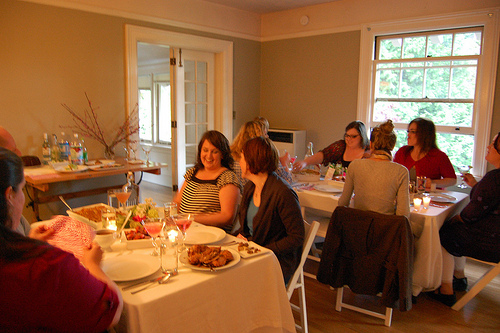 This is a long post so click for more!
I took these snapshots today. I have not ever hung anything on the walls. Behind the sofa sits my bed/day bed. I actually really like the sofa. I found it at an estate sale for $125 and it's in great shape. I'll be keeping that. The drafting table was a hand me down and I like that too.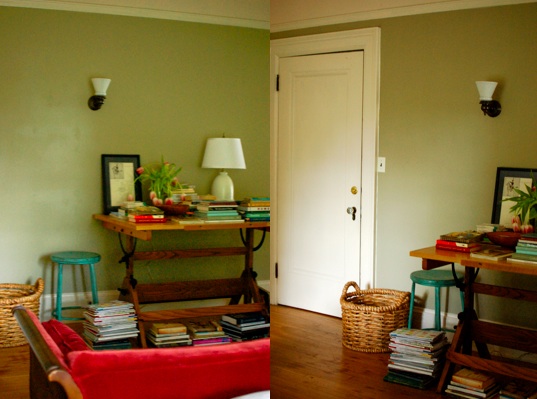 There is a lovely closet and a wall of drawers which I love!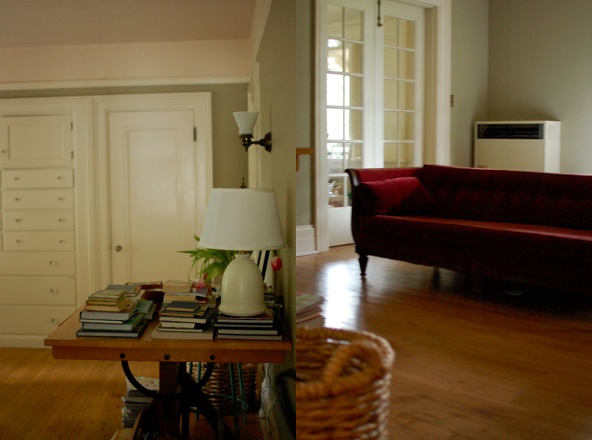 The challenges:
– The apartment is very, very dark!
-Sage colored walls do not help with the darkness!
-See that white box? It's surprising how much of an eyesore the heater is! 
-Windows are bare ( I took off all the ugly white blinds- they make me crazy but now I am on show to the neighbors and it's also freezing in here!!!)
-The place looks like I just moved in and does not feel cozy. ( I need to warm it up!)
-This room needs to function as an entertaining space, a living room, and a bedroom!
Next week I will tell you my vision for this room. I am super excited to have a designer whose taste and outlook I really respect helping me! I will tell you more next week!