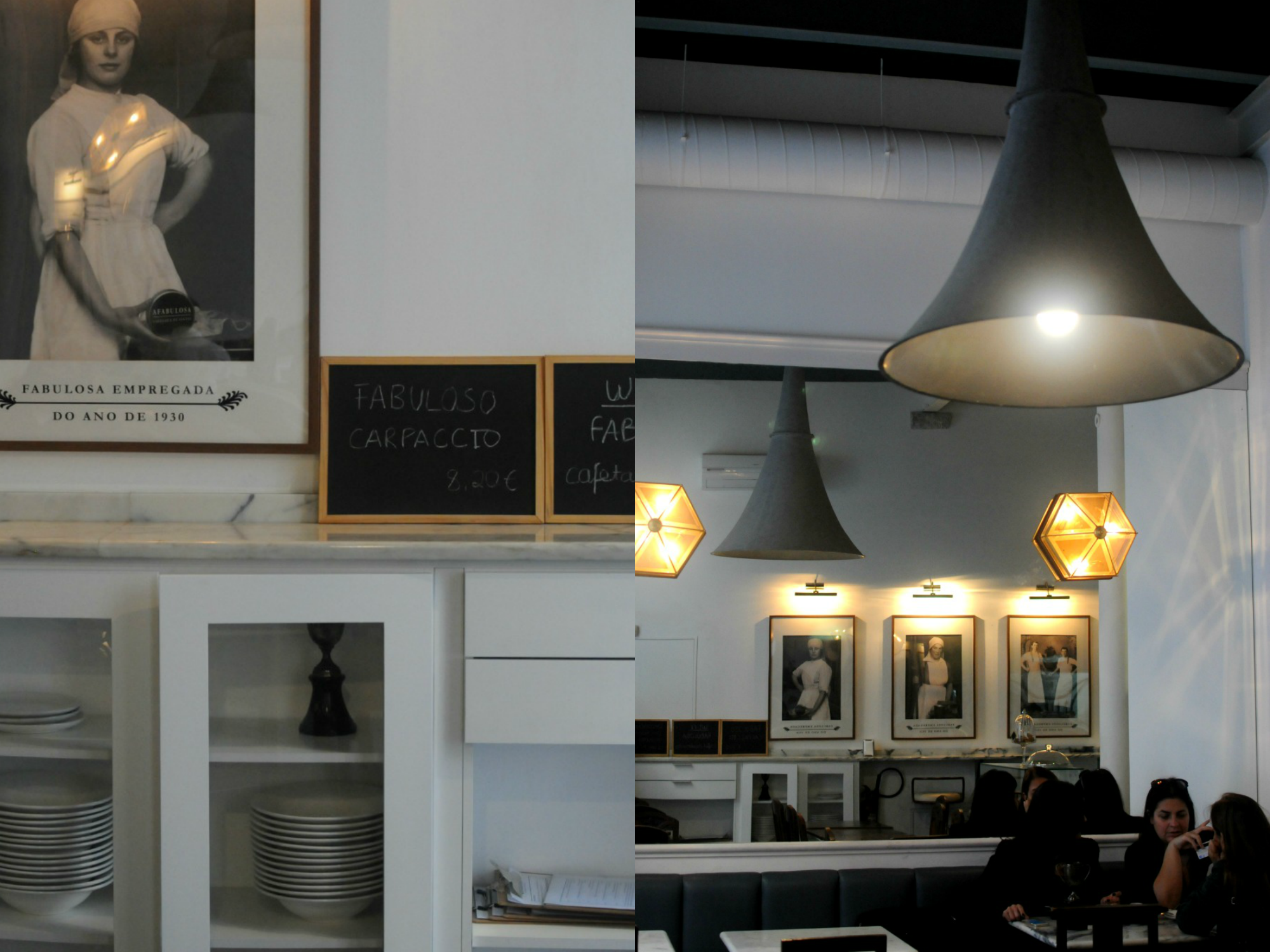 For the coffee shop addict, Lisbon cafe spaces offer an acute cultural experience as well as an abundance of visual eye candy, interior design inspiration, and of course delicious treats and coffee. Lisbon cafes fall into three categories for me: new wave, modern Portuguese, and traditional pastelarias. Today, I want to share a few of my favorite modern Portuguese spaces. These spaces blend the traditional pasteleria elements like marble, dark wood, and ornate woodwork, juxtaposed with modern elements and unexpected details. To me, these spaces offer the best of old and new aspects of Portuguese design. After all, there's something so exciting about blending tradition and history with a bit of innovation. If you are looking for the full experience of good food and good design, in a quiet spot, don't miss these charming spaces when you visit Lisbon. But for now, I'll share a visual tour and perhaps you'll find some ideas for your own space.
Fabuloso, in the Santos district displays the best of Portuguese tradition alongside a fresh, innovative menu and design. The dark wood countertops, display cases, octagonal mirror lights, and quintessentially Portuguese marble surfaces are all reminiscent of the traditional pastelarias and cafeterias, while the fresh white cupboards, exposed industrial ceilings, and large scale light fixture offer a surprise. The vintage photographs are labeled, "employees of the month." They look serious and beautiful with the brass picture lights but upon closer inspection, are a bit humorous.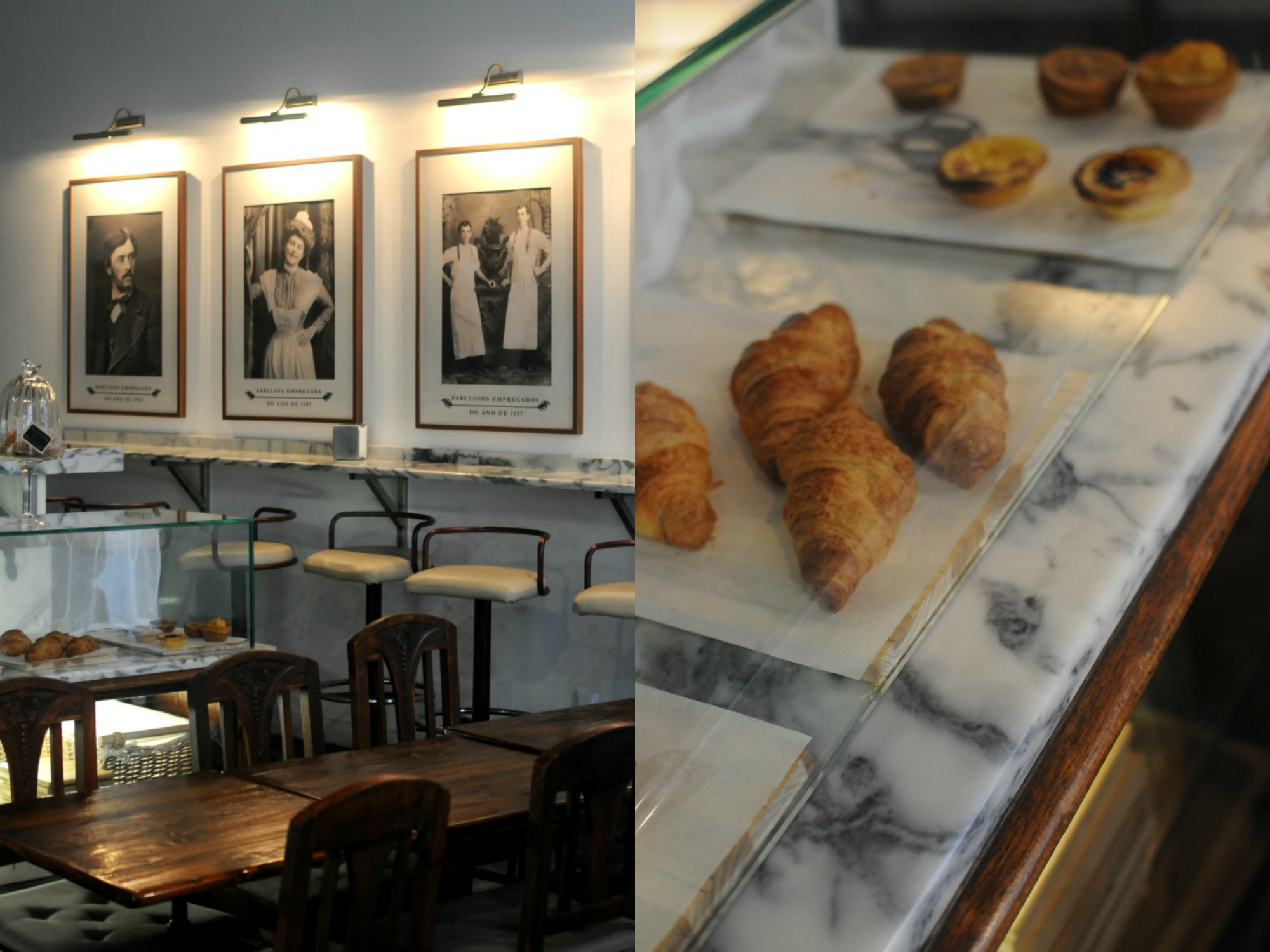 The treats and meals at Fabuloso are so special. Recent favorites include a rich spinach soup and decadent miniature lemon cake. Pictured here are the traditional Portuguese croissants and pastel de natas, the famous custard tarts, you can't miss while you are visiting. The quiet side street feels tucked away from the hustle and bustle of Lisbon, yet close enough to the center, it's within easy access.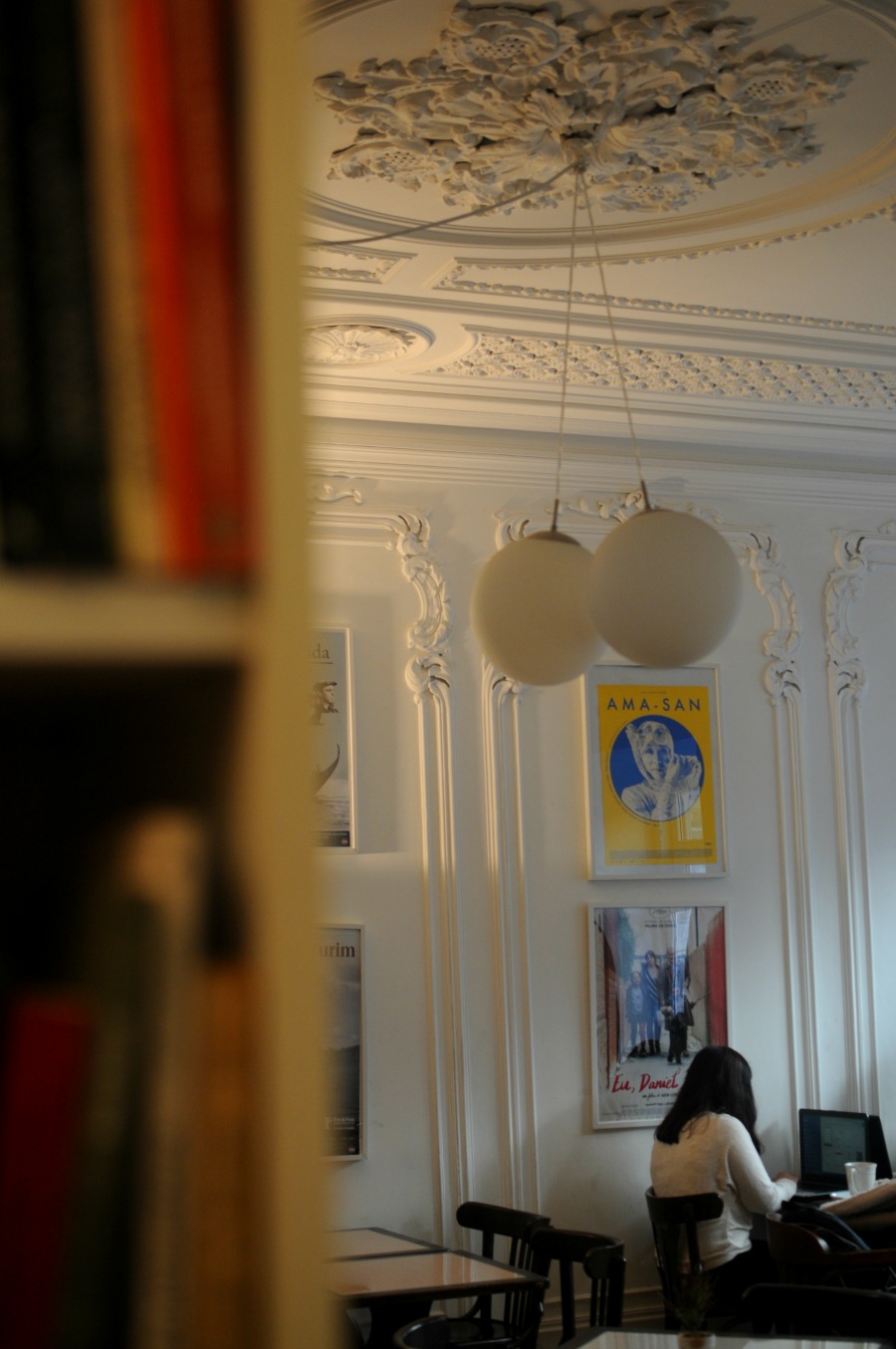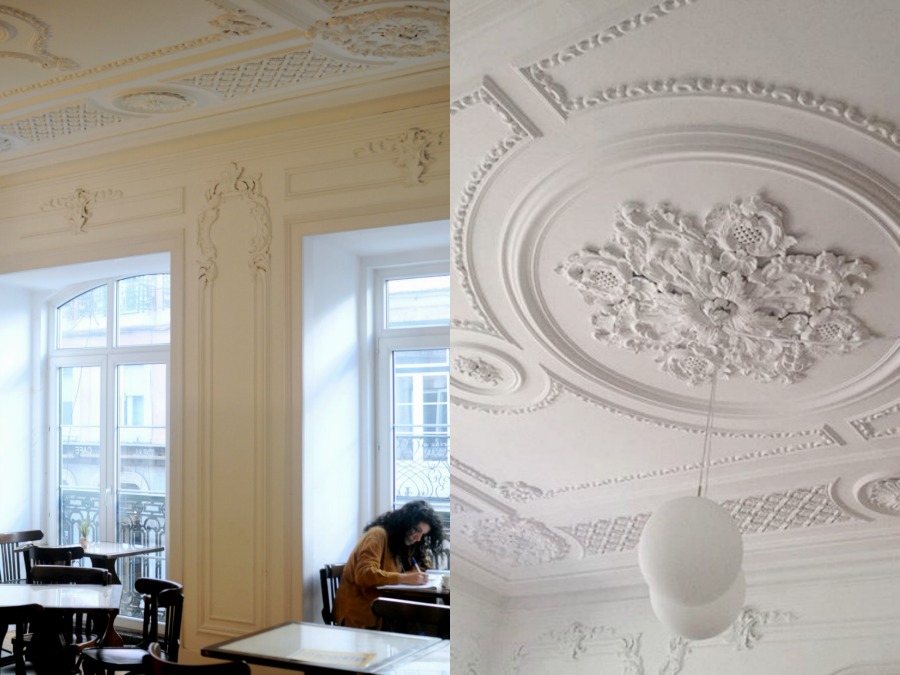 Cafe Ideal, located above a cinema, and inside a bookshop, sits in an 19th century, grand old building but the cafe has been covered in a fresh white paint and modern light fixtures. I love the globe light juxtaposed against the ornate ceilings. It's one of my favorite places to go and enjoy a taborna or a plate of padron peppers. Plus, there's rarely a tourist to be seen, even though it's smack in the middle of the center of the city. It's a bit hidden, up a staircase, as the best places in Lisbon are. Don't miss this spot before or after a movie downstairs, or if you feel to wander through a bookshop and enjoy a coffee after.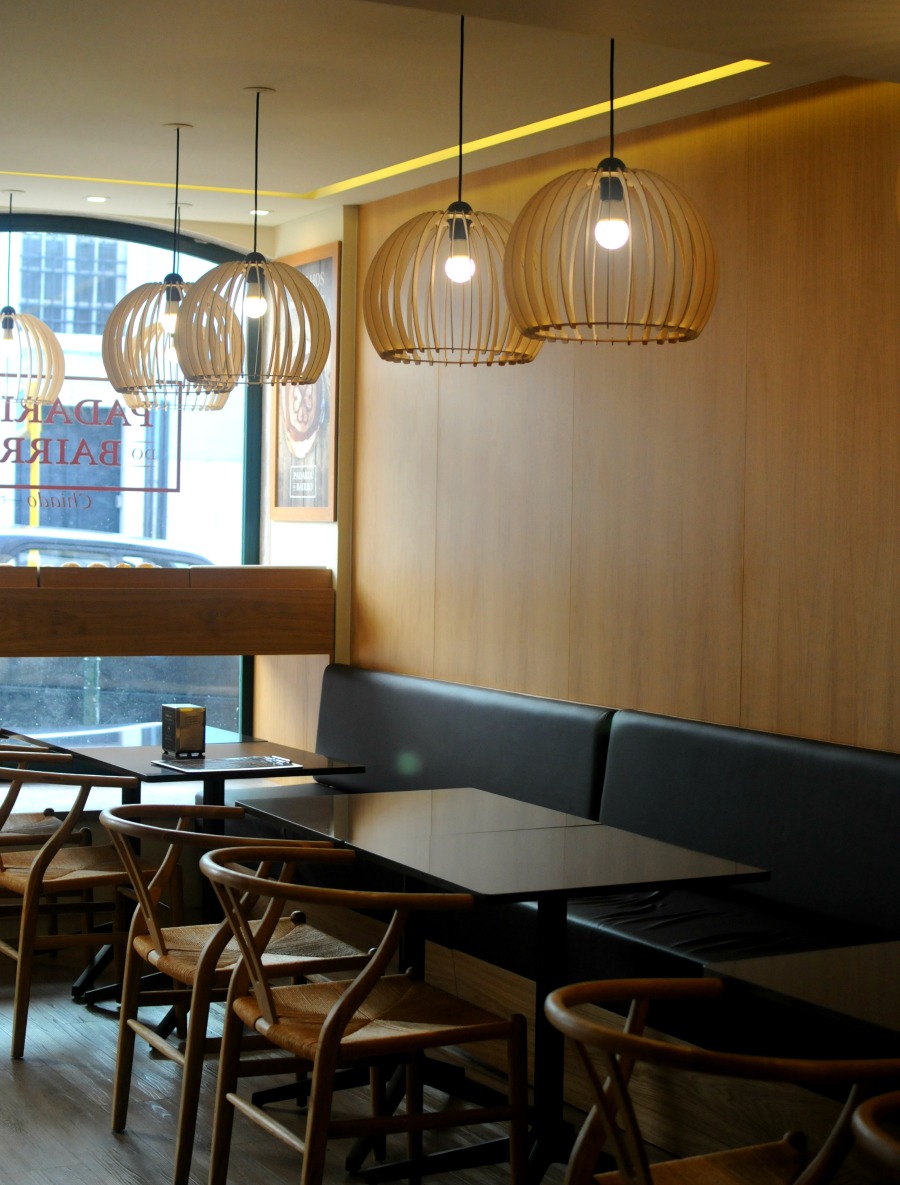 Padaria do Bairro in Chiado, is an entirely new interior inside a traditional historic Lisbon building. While all modern, it nods to the traditional bakeries with the simplicity and clean lines, taking the minimalism into the present with black leather seats, wood slat lights, and Wishbone chairs. With several locations in the city, Padaria do Bairro, offers an abundance of gorgeous baked goods, and large seating areas to take your time and enjoy sweets, coffee, and Internet time.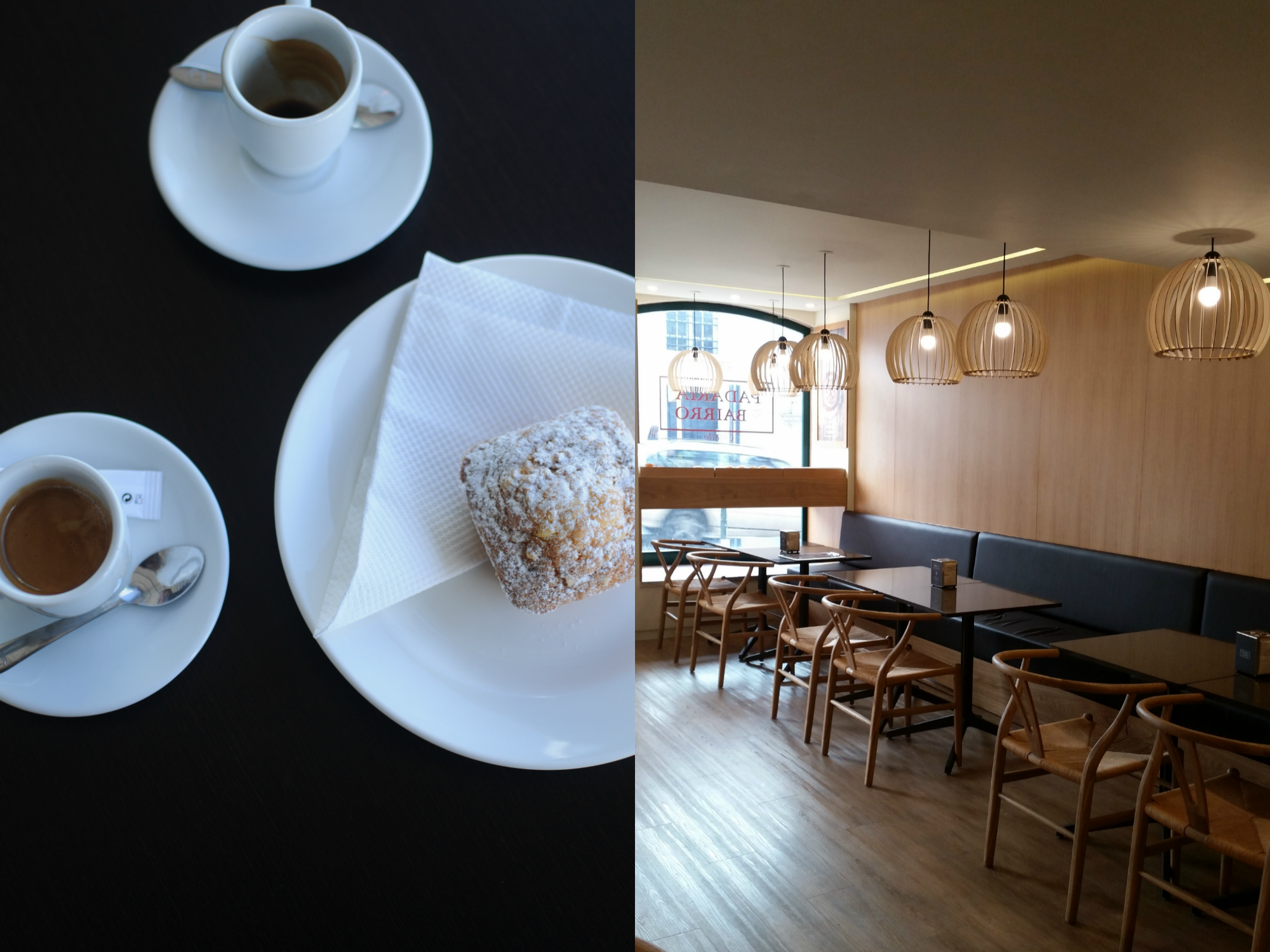 This post is written in partnership with Lampcommerce. Shop their modern classic lighting with Italian favorites like Fabbian available online.
All photos: Frolic! This is a sponsored post.