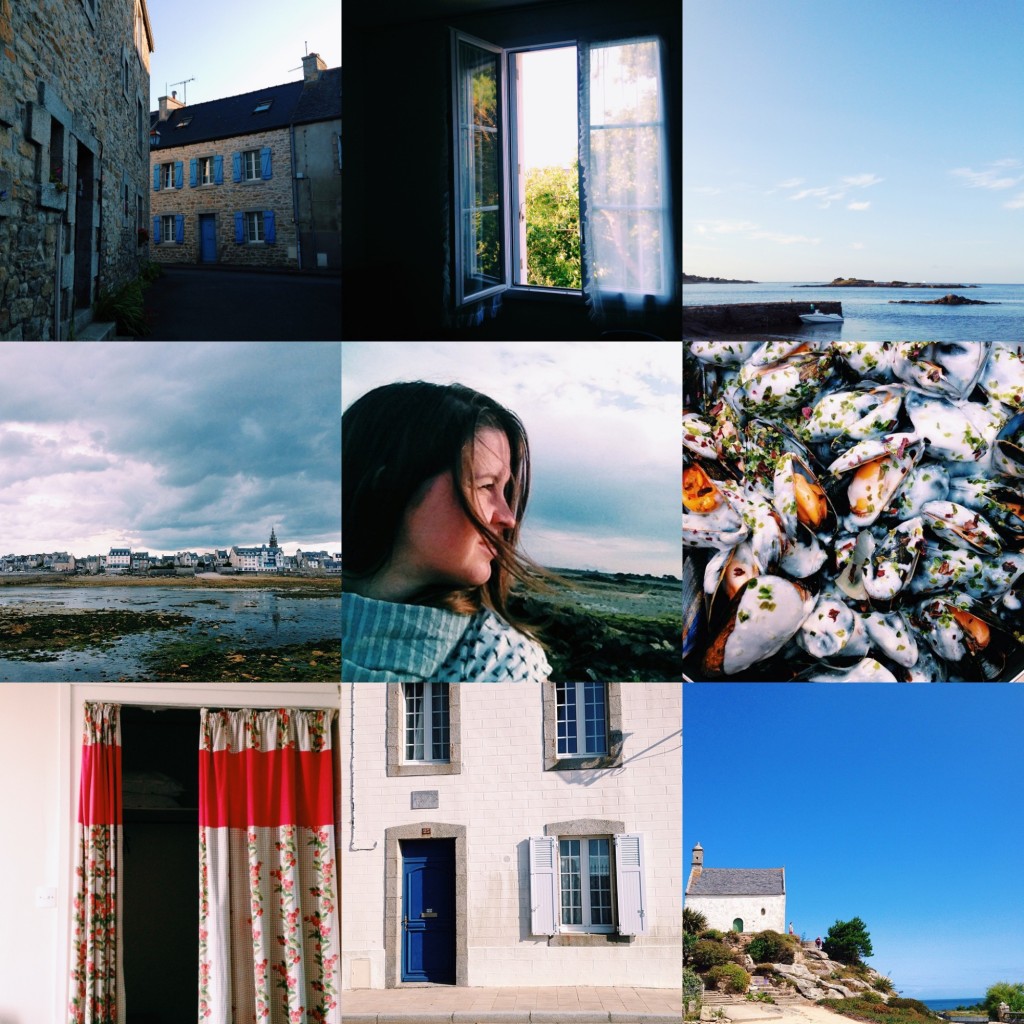 After a month at the French farm, I wanted to go on a little solo holiday to have alone time (hello, one month of communal living!) and to get some things done. I spent a couple days traveling with a fellow farm volunteer and then took the train up to Roscoff on the Northwest tip of France. It's a charming seaside town and a gateway to the UK (I took a ship over to Plymouth, England at the end of my stay) with rocky beaches and gorgeous vistas of the sea. It's a bit touristy but I had a lovely few days eating mussels and taking in sea air. I can't offer any type of a guide as I didn't get to thoroughly scour the area but here are a few things I enjoyed immensely. Originally I thought I might go to Paris to get over to the UK but I started looking into taking a ship and I got my mind set on it. The thought of breathing in sea air for six hours instead of running like a hot mess around a city really appealed to me. I am so glad I did. On the ride over, some Breton bag pipe players stood at the front of the ship and played. Ahh! So lovely!
La Moule au Pot: Delicious food at a tiny family restaurant (with a greenhouse in the back you can dine in) and away from the tourist center of town (I had mussels with a seaweed cream sauce). They harvest seaweed right there in Roscoff for culinary purposes.
Chapelle Sainte Barbe: Hike up to this little church for incredible views of Isle De Batz and the surrounding areas.
Hotel D'Angleterre: I stayed at this totally charming hotel. It's not for the high-maintenance travelers for sure. It's a bit rough around the edges (two stars) but full to the brim with character, as it's been in the same family for several generations now. I had an incredible view of a garden behind a stone wall, stone cottages, and a view of the sea! FYI, the WIFI doesn't work in the rooms, just in the little lobby. It's darling and you can walk everywhere from here.
Sunday Brocante: This market was amazing. I didn't buy anything since I live from a backpack now but I wanted to take home vases, china, ceramics, vintage overalls in red and chambray, vintage children's clothing, and pale blue linen sailor tops! I just followed the signs I found for it around town. It takes place near the harbor.
Brittany Ferries: Check out this ferry site for info on sailing between France to the UK. Don't bother getting a seat, you'll want to be outside on deck to thoroughly enjoy the ride.
All photos by Chelsea Fuss. See more on Instagram.