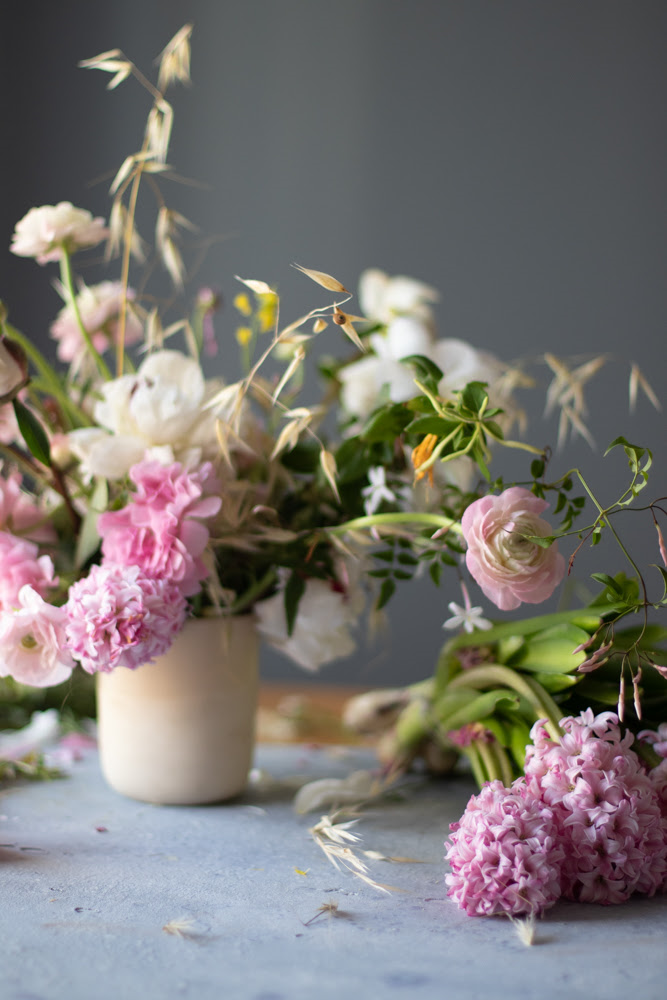 Have you been bringing peonies into your home this season? The season is nearly ending here, but a few weeks ago, I made this video of how I like to put together a mixed flower arrangement with peonies. Featuring the peony, Festiva Maxima, I hope this video inspires you to make your own mixed peony arrangement at home!
Festiva Maxima
Especially inspired by the blush and white peony at the flower market, Festiva Maxima, offers fragrance and a creamy white hue to floral designs. Originating from France, and well-loved in the floral industry, this heirloom peony brings a softness and romance to flower arrangements. You can watch the video below to see how I arrange it with hyacinths, ranunculus, oat grass, mustard, jasmine, and honeysuckle.
Peony Conditioning
When conditioned properly, Festiva Maxima holds up beautifully in the vase, imparting a subtle floral fragrance to your home! Upon opening, Festiva Maxima reveals splashes of scarlet petals. Be sure to purchase when the buds are just beginning to open. Place in water immediately, then cut at a 45 degree angle and remove lower leaves. This will help the flowers take up all the water needed and be well hydrated before you begin working with them.
Arranging Peonies
Peonies are bold flowers and can be used as focal points in an arrangement, helping to craft a shape for your composition. I started with hyacinths to create a base and then added the peonies to add structure and composition. The ranunculus work well as a contrast in scale next to the dense peonies and hyacinth. Garden trimmings and foraged stems, including jasmine, offer movement, wispiness, contrast in texture, scale, and color, to finish out the arrangement.
The result was an overwhelmingly romantic and fragrant living room floral statement!
Learn more flower arranging tips, or join me for an online flower arranging workshop, here! You can see more video flower tutorials at You Tube. Don't forget to subscribe so you'll be sure to catch each tutorial!
Watch more flower tutorials:
How to Arrange Grocery Store Flowers