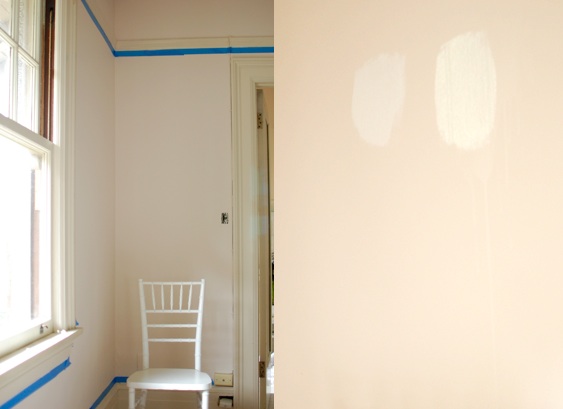 So the very first step I wanted to take in decorating my apartment was to paint the whole thing. It's just so nice to start out with freshly painted walls. Luckily, after a lot of nagging, I was finally able to convince my landlord to let me paint. The catch is that I have to stick to shades of white which is totally fine by me.
Am I the only one that gets super overwhelmed looking at 300 shades of white? Elizabeth Dye helped me sort through all the colors and this is what we came up with. All paints are from Benjamin Moore from their Aura Paint Collection (Low VOC)*. 
Living Room: Candle White (a pink-white. close enough to white in my book!)
Trim: Simply White
Kitchen: Bavarian Cream
All other rooms: Simply White.
See the before photos here. Photos above are in-process! 
*Paint is courtesy of Benjamin Moore. Thank you to my friend, Interior Designer, Rich Wipf for helping me with the painting!  Snapshots by me.