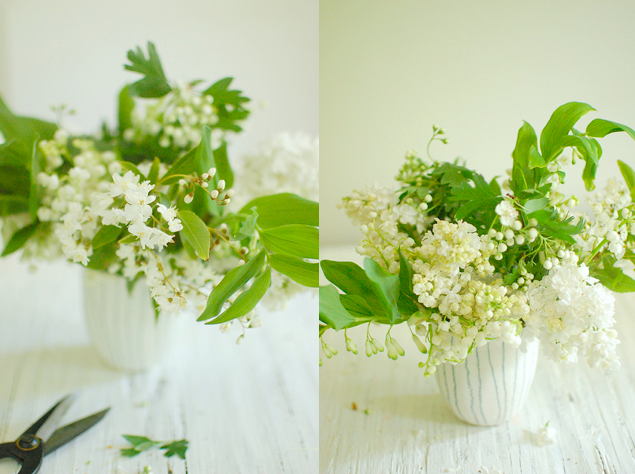 This bouquet is indulgent, fragrant and a little wild. Perfect for a bedside table or cozy sitting room. As always, substitute the flowers with what looks best in your area.

Flower recipe :
2 stems of Hawthorne flowers
3 bunches of lily of the valley
5 stems of white lilac
3 stems of solomon's seal
1 stem deutzia
1 striped vase filed with cold water- I've used this one from Coterie.
Basic flower arranging tips:
If you are picking flowers from a garden, pick them early in the morning or in the evening when they are fully hydrated. Once home, re-cut the stems (at a diagonal angle) and let them soak in water for a few hours. Keep in a cool, dark place.
Instructions:
1. Remove the leaves from the lower portion of the flower. I usually keep any leaves 1″ -2″ under the blossom. Everything else should be removed.
2. Start by adding the bunches of lily of the valley and 1-2 stems of lilac at a time. Alternate.
3. Fill in any holes with the hawthorne flowers. Try to place them diagonally from each other.
4. Add the solomon's seal. One stem, arching to the right, two stems, placed diagonally, arching towards the foot of the vase.
5. Fill in with any stray flowers or greens.
6. Check water daily, keep away from bright light and drafts.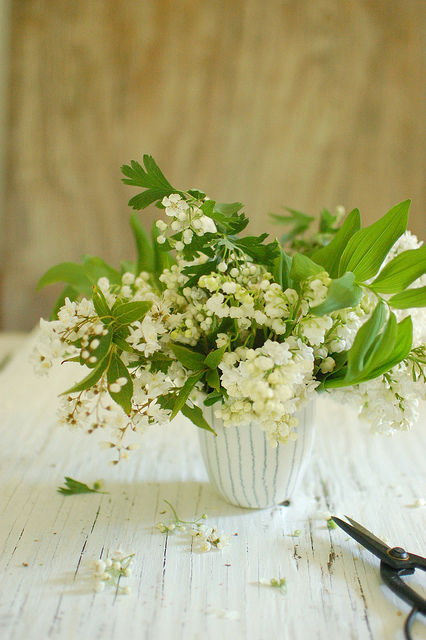 Enjoy!
Photos and article by Chelsea Fuss for Frolic!