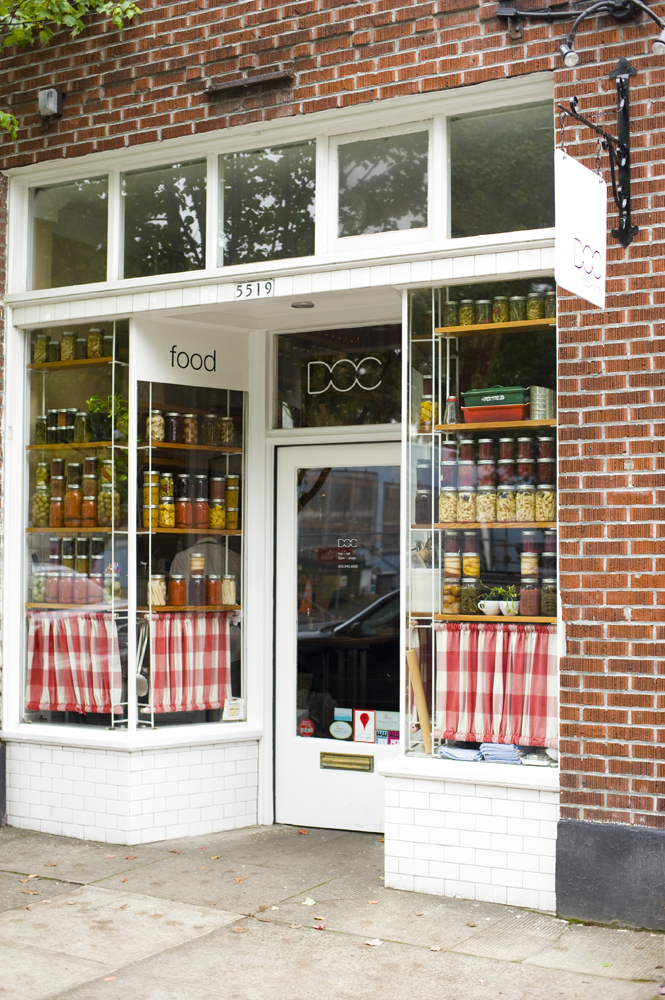 DOC is one of my favorite foodie spots in Portland so I invited myself and photographer, Lisa Warninger, to visit their kitchen on a chilly fall morning last month. This cozy little restaurant feels like eating in a friend's home. When you walk through the doors to be seated, you walk straight through a tiny farmhouse kitchen where chefs, Paul and Jobie, prepare farmer's market-inspired meals.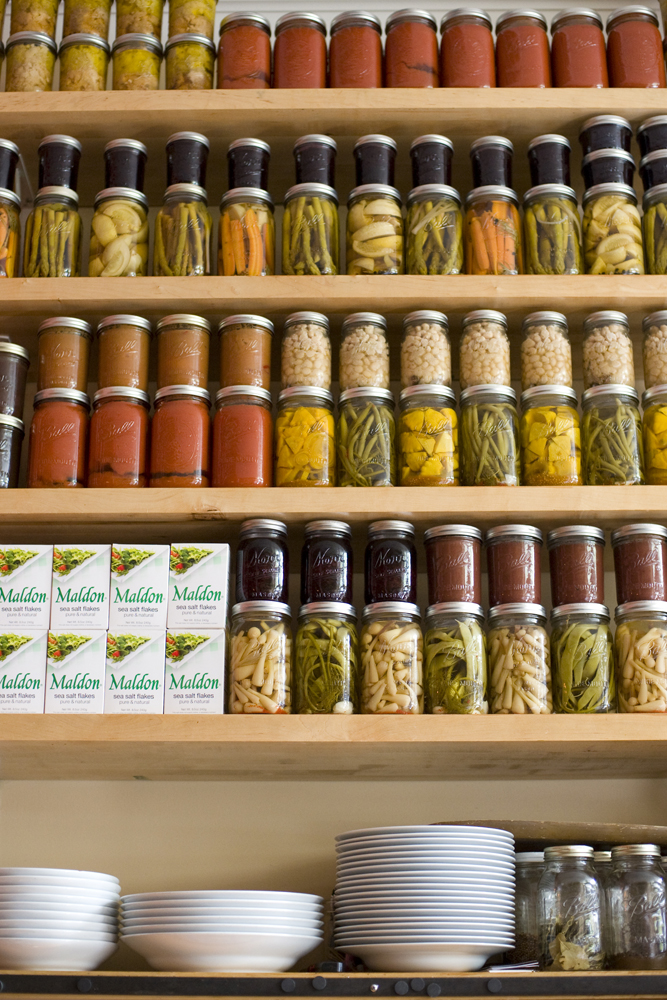 On the morning we visited, the guys had just finished making fifteen gallons of tomato sauce with the last harvest of garden tomatoes. They'll use them all winter in sauces and stews. And the cans will sit on those pretty window shelves which are an awesome use of space.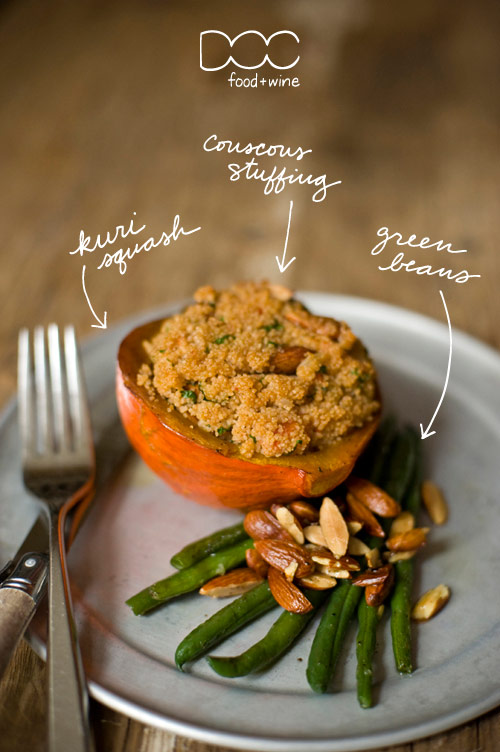 The menus at DOC are very intuitive and based on whatever the chefs happen to be inspired by that week at market. When we visited, the guys were really excited about these little kuri squash and they showed us how to cook them with saffron couscous. We (OK, I) gobbled it down that afternoon for lunch. If you are willing to forgo tradition, these would be lovely individual servings for Thanksgiving or even served as a side dish. Recipe, below. (Graphic design + lettering by Scout's Honor Co.)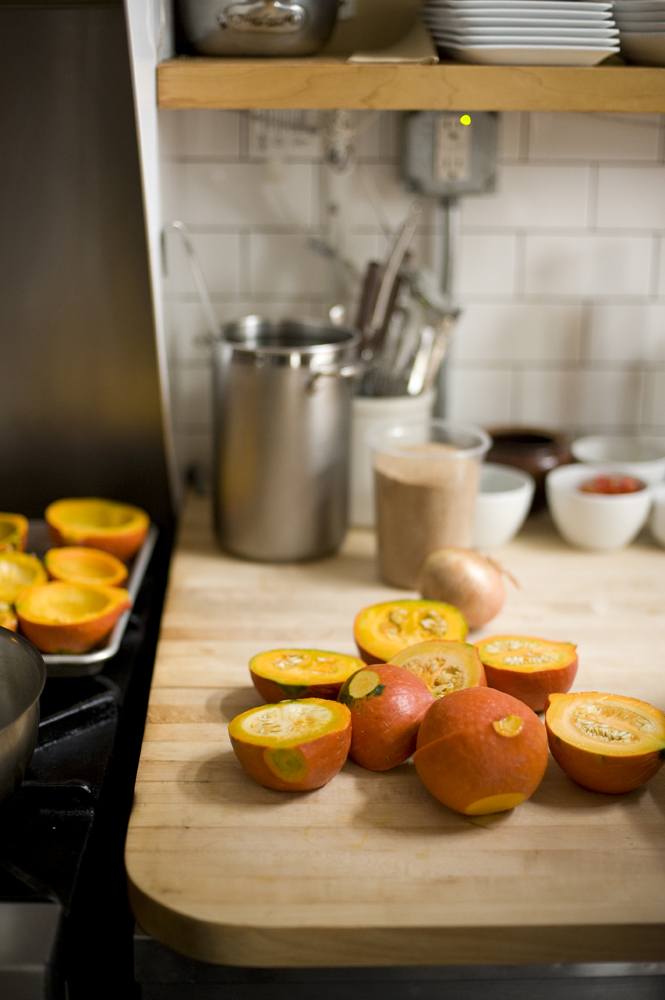 Lisa snapped a few photos of the process. Paul taught us to square off the ends of the squash so they can easily sit on the pan when cooking.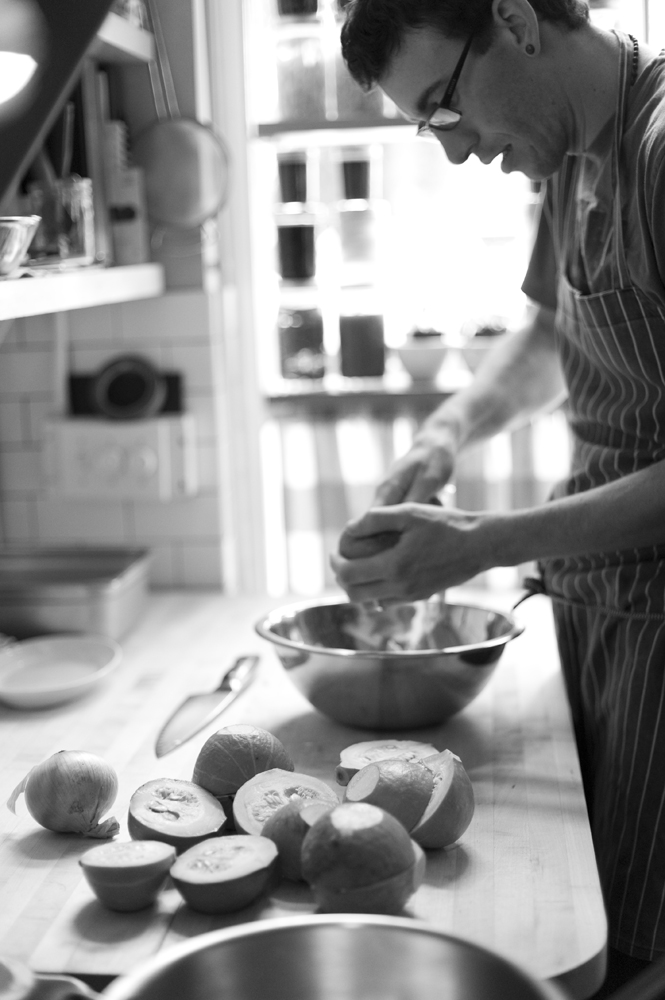 Paul cleaning out the centers of the squash.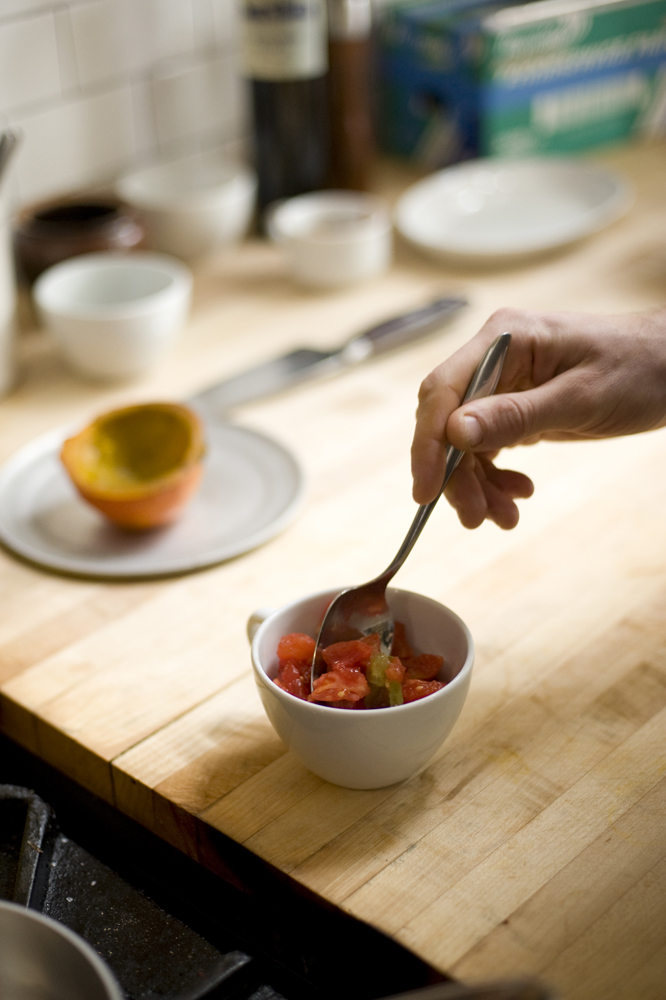 Adding tomatoes to the couscous.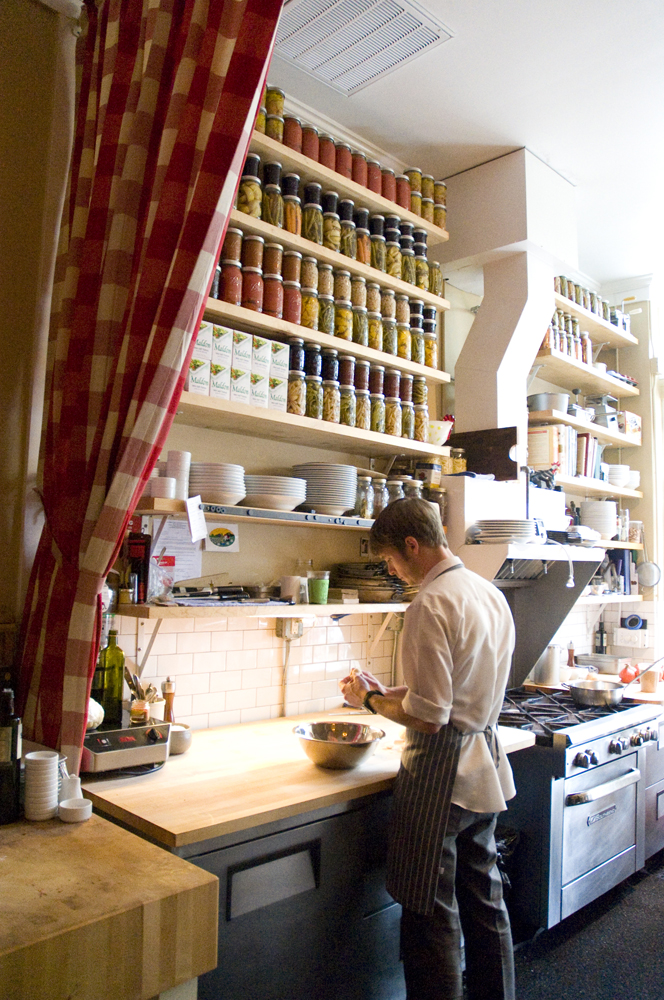 A dramatic gingham curtain separates the kitchen from the dining area. I am impressed that they work in such a small space!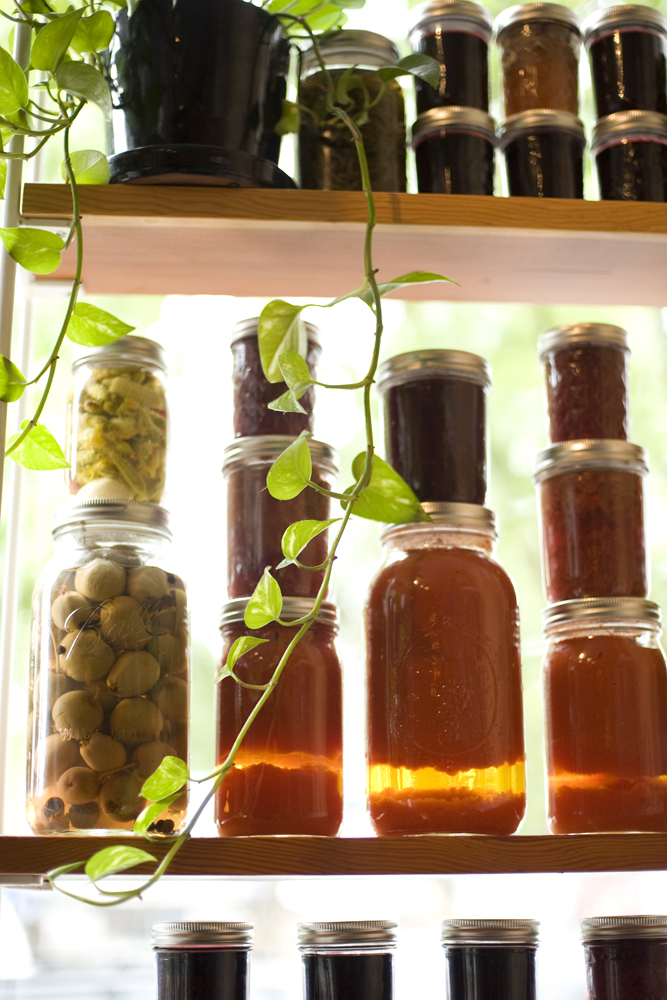 I love talking to people who are passionate about what they do and it's obvious that these guys love creating fresh, seasonal food and enjoy supporting our local farmers. Thanks, Paul and Jobie for letting us hang out in your kitchen!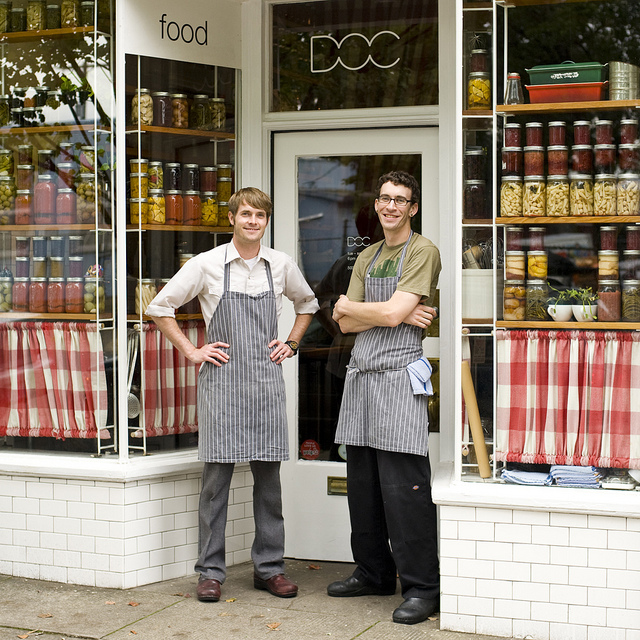 Download the instructions to make Kuri Squash with Saffron Couscous Stuffing below in two recipe cards designed by Scout's Honor Co. Click here to download: Part I and Part II.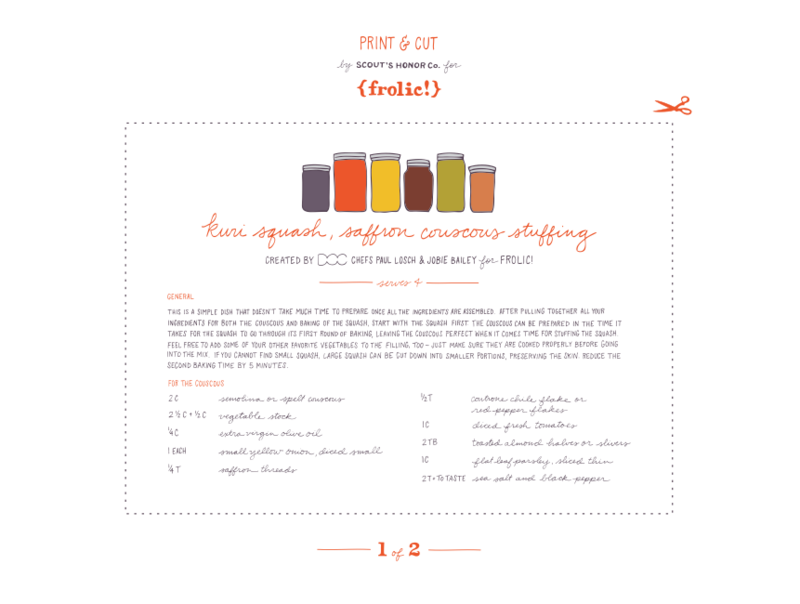 Photography by Lisa Warninger. Graphic design, hand-lettering and illustration by Scout's Honor Co. Recipe by DOC. Created for Frolic!