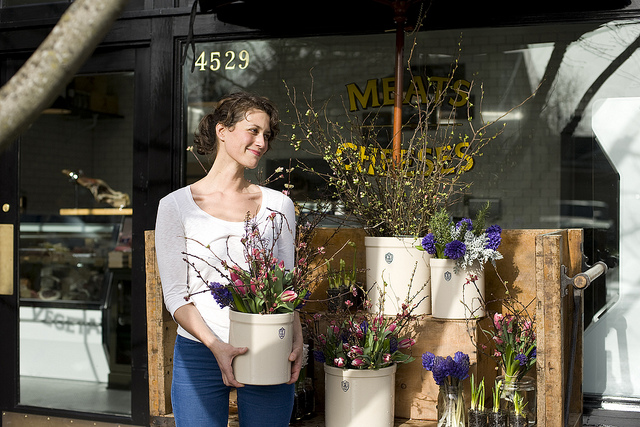 If you follow my Instagram feed, you know I am a sucker for a lovely gourmet market. I think Zupan's, New Seasons, City Market and Pastaworks have most of my retirement. Maybe they'll take me in when I am homeless and 90?! A few months ago, I happened upon a new favorite, an itsy bitsy grocer called The Woodsman Market. I don't want to tell too much, as Lisa and I put together a fun story for the next Kinfolk about the market. One of the first things I noticed was the effortless display of flowers. I am a complete flower snob and I was instantly impressed with the nonchalant, easy display of fresh blossoms. I came to find out the little flower stand is put together by Fieldwork. This is Megan, the owner, and head flower girl as photographed by Lisa Warninger. Luckily, she showed up the day we were shooting!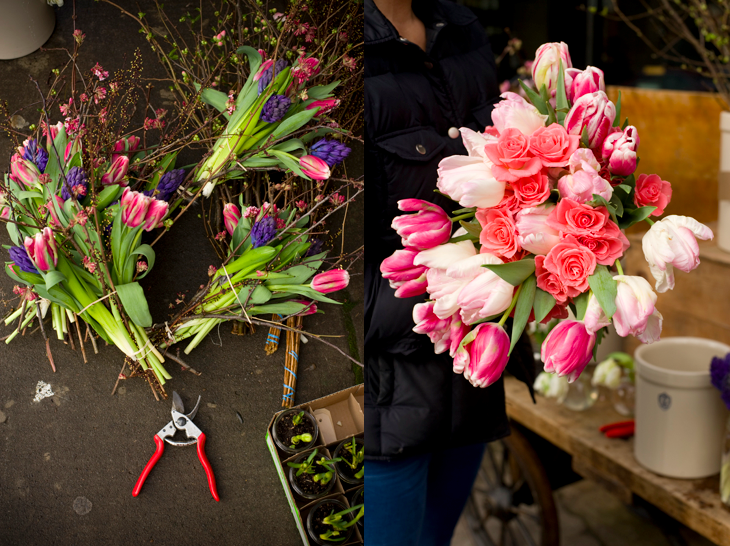 Megan makes her arrangements from flowers harvested at local farms and loves for the bouquets to feature two to three varieties. She displays them as if they were just picked from the garden! The flowers greet you at the entrance of the market, sitting in little crockery pots on an antique cart. The day we were there, the cart was filled with bouquets of parrot tulips, blue hyacinth, and quince, alongside little budding narcissus. I love what Megan and her team are doing and it was such a pleasure to meet this energetic flower girl. Thanks, Megan!
Photos by Lisa Warninger for Frolic!