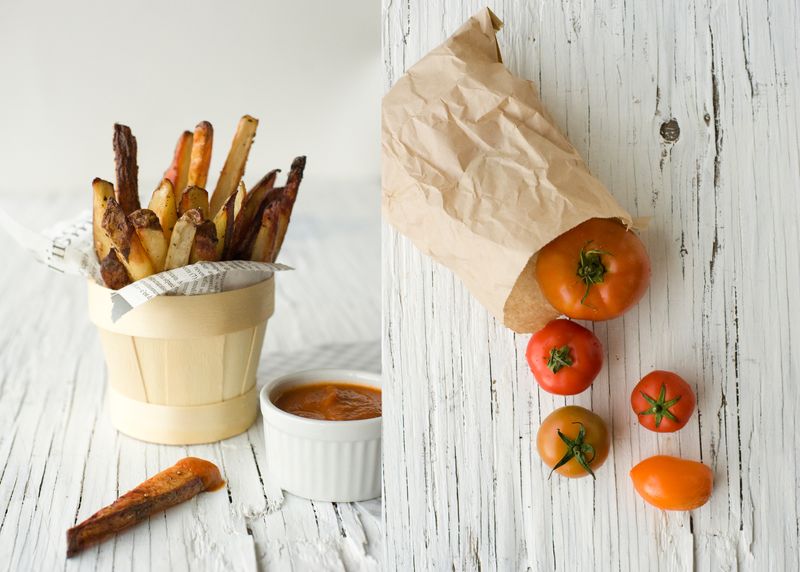 Slow Roasted Tomato and Jalapeño Ketchup
3 lbs fresh tomatoes on the vine
2 large sweet onions
6 cloves garlic
1 jalapeño pepper
2 T. canola oil
Salt
Fresh ground pepper
¼ cup balsamic vinegar
¼ cup red wine vinegar
1 T. brown sugar
1 ½ tsp. cumin seeds
½ tsp. fresh ground pepper
Preheat oven to 300. Quarter the tomatoes and place them on a baking sheet. Peel and quarter the onions and place on another baking sheet. Slice the jalapeño pepper in half and discard the seeds in the middle. Place on baking sheet with the onions. Peel garlic cloves and place them on the baking sheet with the onions and pepper. Drizzle canola oil over both baking sheets and season with salt and pepper. Lightly toss vegetables with your hands to make sure they are all coated and seasoned. Place both baking sheets in the oven and roast at 300 for 90 minutes.
Pour tomatoes, onions, pepper and garlic into a large stock pot. Add vinegars and sugar.
Place the cumin seeds and the fresh ground pepper in a small skillet. Turn the heat to medium and toast until fragrant, about 1 minute. Add the seeds and pepper to the stock pot.Using an immersion blender, puree all the ingredients until completely smooth. (If you don't have an immersion blender, you can use a regular blender or a food processor. Just be careful transferring the hot vegetables!) Turn the heat for the stock pot to medium high and bring to a boil. Reduce the heat to low and let simmer, uncovered, for 90 minutes. Season with salt and pepper to taste.
If you like a chunkier ketchup, let it cool at this point. If you want a smooth, more traditional ketchup, force ketchup through either a food mill or a sieve, until there is a only a small amount of a tomato paste left. Discard the paste. Let ketchup cool completely before chilling it overnight in the refrigerator.
*If you aren't a fan of jalapeños, leave them out. It will still be delicious.
Makes about 3 cups.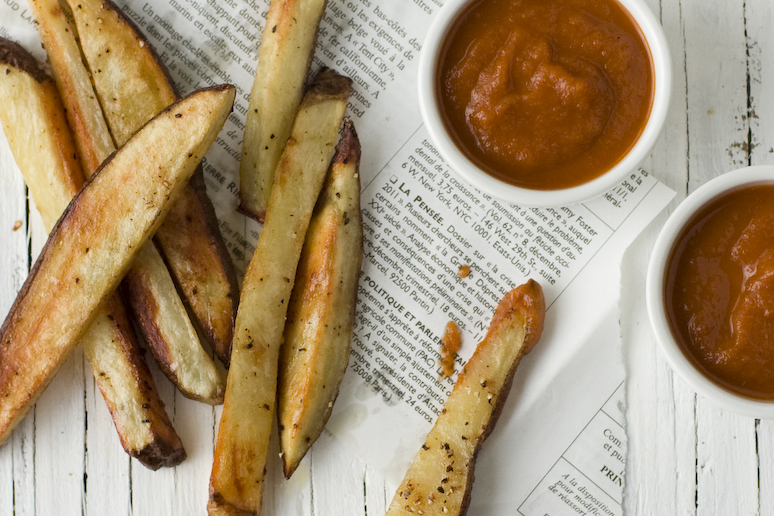 Roasted Potatoes
2 large russett potatoes
Olive oil
Salt and pepper
Cut potatoes into 4 or 5 thick slices, then cut each slice into 4 or 5 pieces lengthwise. Toss with some olive oil and salt and pepper and roast at 450 for about 40 minutes, or until crispy and golden brown.
Recipes by Elizabeth Fuss. Photos by Lisa Warninger. Styling by Chelsea Fuss. For Frolic!