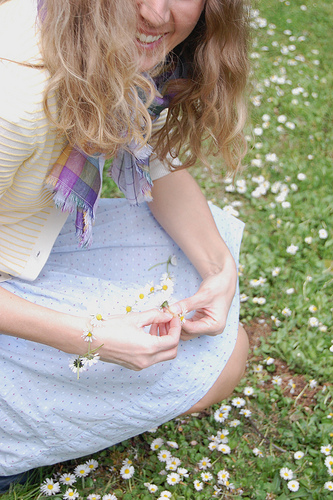 One of my resolutions when I returned from Sweden last year, was to look at my hometown with new eyes, through the eyes of a tourist. I noticed when living abroad, I was hyper sensitive to every single detail surrounding me, things I might overlook if I were home. So, lately, I've been trying to take advantage of all the parks in Portland. There are a lot that I never knew about, or just took for granted. 
One of my favorites is Willamette Park on the South side of town. It goes all along the river where you can walk or run on trails, watch sailboats, bicycle, or take a kayak out on the water, all with a perfect view of the skyline. Right now, the lawns are just a mass of little English daisies (Remember the Fleur De Lawn?). It almost looks like snow. It's just heavenly. They have swings too! Have you been swinging lately? I'll admit that I have. It's quite therapeutic. 
Photo of my friend Amber, by me.