Last month we held an outdoor feast and campout for my parent's 40th anniversary. My little brother, Michael, and I (the two youngest of the five siblings) were in charge. Held at their farm in Eastern Washington the party was a small gathering of family and some country neighbors.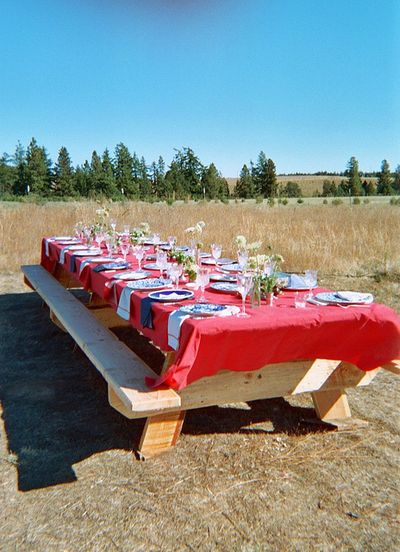 Michael is a carpenter so at the last minute, he built a 16 foot picnic table for us. I hauled my mom's china collection up there (because it should be used, right?) and bought some inexpensive goblets at thrift stores. The centerpiece was made up of basil plants, queen anne's lace in thrifted bottles, and herbs in old pewter. Calico and dishtowels (.49 cents at Ikea) were used for napkins.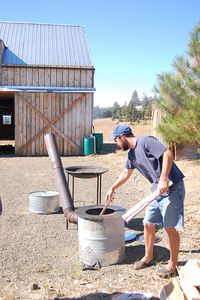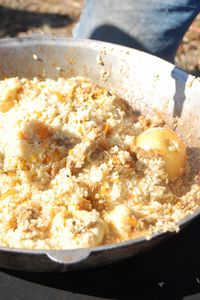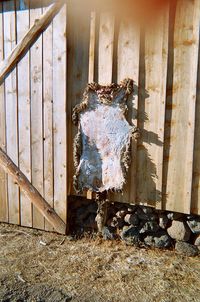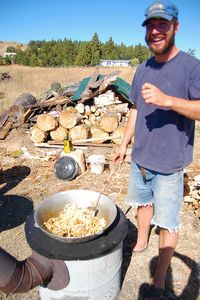 My family is sort of obsessed with food so that's what this party was all about. We knew we wanted to cook outside but there is always a burn ban on in that area, so we couldn't use a firepit like I imagined. So, Michael bult this awesome stove for $5 and it worked like a dream! He also slaughtered the lamb himself with the help of the neighbor.
Here's the menu (everyone helped out to make these):
Uzbek Pilaf with whole apples, garlic, and lamb (Michael picked this recipe on his travels)
Homemade hummus + pita 
Green salad (made from the garden)
Lamb marinated in lemon juice, Greek yogurt + rosemary. 
Roasted carrots (from garden) with rosemary.
Rebar Chocolate cake with strawberries.
During the feast, we presented them with a homemade book of memories and photos (see first photo).
We strung up globe lights and set out lanterns for a dance after dark and then migrated to the barn loft, tacked up a white sheet, and had an an old fashioned slide show. Blue Moon Camera rented us a slide projector when ours broke at the last minute. My parent's mostly took slide film while we were growing up so there were lots of old photos to laugh over. Some people slept in the barn or the cabin but we also set up tents out in the field.
One fun thing: I bought a whole bunch of disposable cameras from Target (4.99) each and gave some to my nephews to take photos with. I just got the film back and some of the photos they took are really cool. Like this one taken from the loft in the barn while we were eating breakfast the next morning.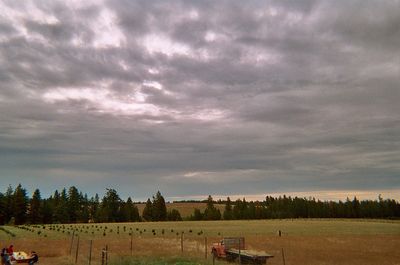 All the photos are a mix of digital and disposable and it was blaring sun, so be kind. Also Typepad is doing weird things with my photos so some look better when you click on them. More on Flickr soon!
Happy Anniversary to Mom + Dad! 🙂