I am excited to be part of the Creative Inc. blog tour! This book (written by the lovely Joy + Meg) is such a great resource. A lot of you know that I dove headfirst into self-employment just a few years after college when I started a flower business at 24, and I currently work freelance. So, I was really excited when I heard about this new book.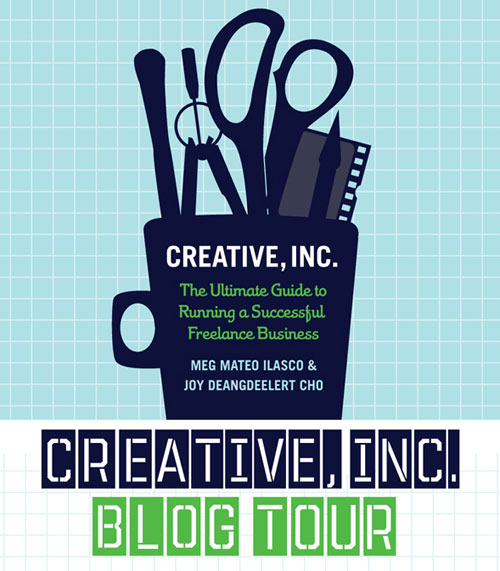 I wish I'd had Creative Inc. earlier. It's like the co-worker in the cubicle next door that you always pop over to for advice but as an entrepreneur, don't have any longer. From putting together a portfolio, to calculating what you should charge, to working through creative blocks, Creative Inc, is an accessible and simple guide to making self-employment work. After reading through the book last night, I am already feeling re-charged and inspired to tackle some of the challenges I am facing with my evolving business.
My favorite part of the book was reading the profiles. Learning that one of my favorite photographers is entirely self-taught in everything from graphic design to styling to photography and that he started out as a bagger at Whole Foods was completely inspiring and humbling to read. I love a good entrepreneurial story!
I know a lot of you are self-employed or are looking to make a change so leave a comment before September 3rd and Chronicle books will send one lucky person a copy of this book! Or, you can buy it here. Good luck!
P.S. Follow the Creative Inc. blog tour here:
8/23 Poppy Talk
8/24 Oh Happy Day
8/25 SFGirl By Bay
8/26 Mint Design
8/27 Wit + Delight
8/28 Cathy of California
8/29 Book By Its Cover
8/30 Not Martha
8/31 Frolic!
9/01 Upper Case
9/02 Craft
9/03 Decor8
9/04 Kris Atomic
9/05 Grain Edit
* Winner has been notified. Thanks for all the entries!