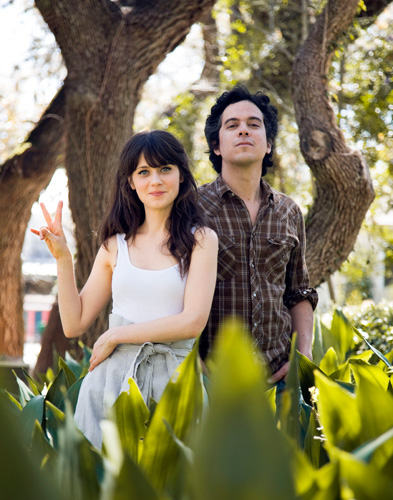 I had a marvelous weekend bicycling,  picnicking, reading, and lounging in Sunriver. Sunday night I attended the She and Him and Band of Horses concert in Bend. I usually steer clear of large venues  but the amphitheater in Bend is set by the river and surprisingly cozy.
I was pleased to discover that Zooey Deschanel has a lovely voice that holds up to the recordings. And, yes, she looked adorable as can be in a blue, smocked, short, floral dress with a ruffle. I was standing on my tippy toes trying to see the shoes. I would have loved to hear more singing from M.Ward, but I did develop quite the crush just watching him on stage. He's gorgeous and mysterious! Their performance, while not all that emotionally engaging, was very entertaining and inspired me to get reacquainted with M. Ward's solo work.
I might be outing myself as a groupie, but this was my third time watching Band of Horses. Ben Bridwell, the lead singer is a crazy, hyper, lumberjack-type and I adore watching and listening to him, even though he scares me just a little bit. The whole band is pretty amazing to see live.
I recommend shows with either of these groups but certainly check out M. Ward too, if you don't already know his music.
Photo from here.