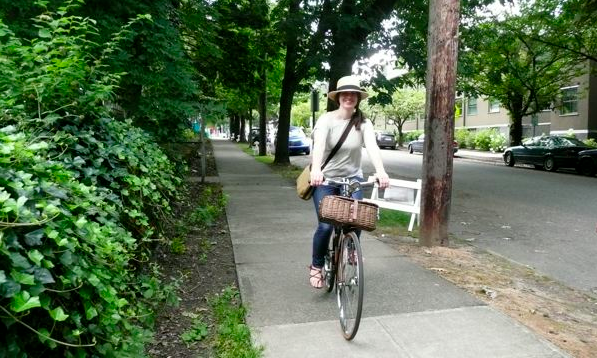 Hello! I am Chelsea Fuss. I started Frolic! in 2006 as my online inspiration board and a way to share my work. It has since grown into a daily lifestyle blog that is read worldwide and has been recognized by The Wall Street Journal Magazine, The London Times, Lucky and more. I am based in Portland, OR.
Frolic! is devoted to effortless style and simple living. Featuring the latest finds in clothing, interiors, travel, food, art and design, as well as DIY ideas, flower projects and recipes, Frolic! is a
go to resource for design enthusiasts and tastemakers around the globe.
In another life, I was a floral designer with my own shop. I am now a commercial floral and prop stylist and have loved working with clients like Hanna Andersson, Rejuvenation, HGTV, Kinfolk and more. If you would like to get in touch about a job or just say, "Hello!", email me at chelseafuss(at)gmail(dot)com. Thanks for visiting!
Social Media Assistant: Caitlin Burkhart is the Social Media Assistant here at Frolic! She helps with coding and researching blog posts as well as many other duties. Her background is in photography and art history. You can see her photography here. She has interned most recently at the Museum of Contemporary Craft and the Portland Art Museum, and she wants to be a curator when she grows up.
Contributors:
Each season, I collaborate with some of my favorite talents in Portland and beyond to create original editorials and projects for Frolic!
Annemarie Buckley is the owner of Scout's Honor Co., a stationery studio based in Burlington, Vermont. Annemarie specializes in illustration, hand type, and custom design for weddings, events, and other social correspondence. She also blogs daily, sharing her projects, inspiration, and process. Annemarie contributes smart DIY's and downloadables to Frolic! monthly.
Banquet Atelier and Workshop is a Vancouver-based studio offering handmade cards, limited edition prints, and art kits inspired by the natural world. Shop online at their store and keep up with their latest inspirations on their blog. Banquet contributes charming DIY's to Frolic! monthly.
Lisa Warninger is a lifestyle photographer based in Portland. She runs Portland's only street style blog, Urban Weeds and captures everything from food to fashion to paper goods for books, catalogs, websites, and magazines. Lisa photographs editorials, food stories and travel posts for Frolic! a few times each season.
Joke Vande Gaer is a designer and letterpress printer in Portland, Oregon. Originally from Belgium, Joke has a knack for creating simple but brilliant DIY ideas with everyday, easy to find, items. Her spare, playful style is always a favorite. Joke contributes DIY ideas to Frolic! each month.
Hannah Peterson is a young clothing designer from Portland who works with sustainable materials to create beautifully simple and wearable designs for her line, Hetterson. In addition to dresses and tops, Hannah designs knitwear and leathergoods. Hannah creates downloadable patterns and styles wardrobe-focused editorials for Frolic! each season.
Photo credit: Sara McCausland.