By Elizabeth Fuss
Sometimes there's nothing better than a crisp spring salad. This one adds a bit of heft with a deep fried poached egg and a bit of brilliant yellow to the plate, and bold flavors in the vinaigrette. Don't be intimidated by the deep frying part. You'll be surprised how easy it is!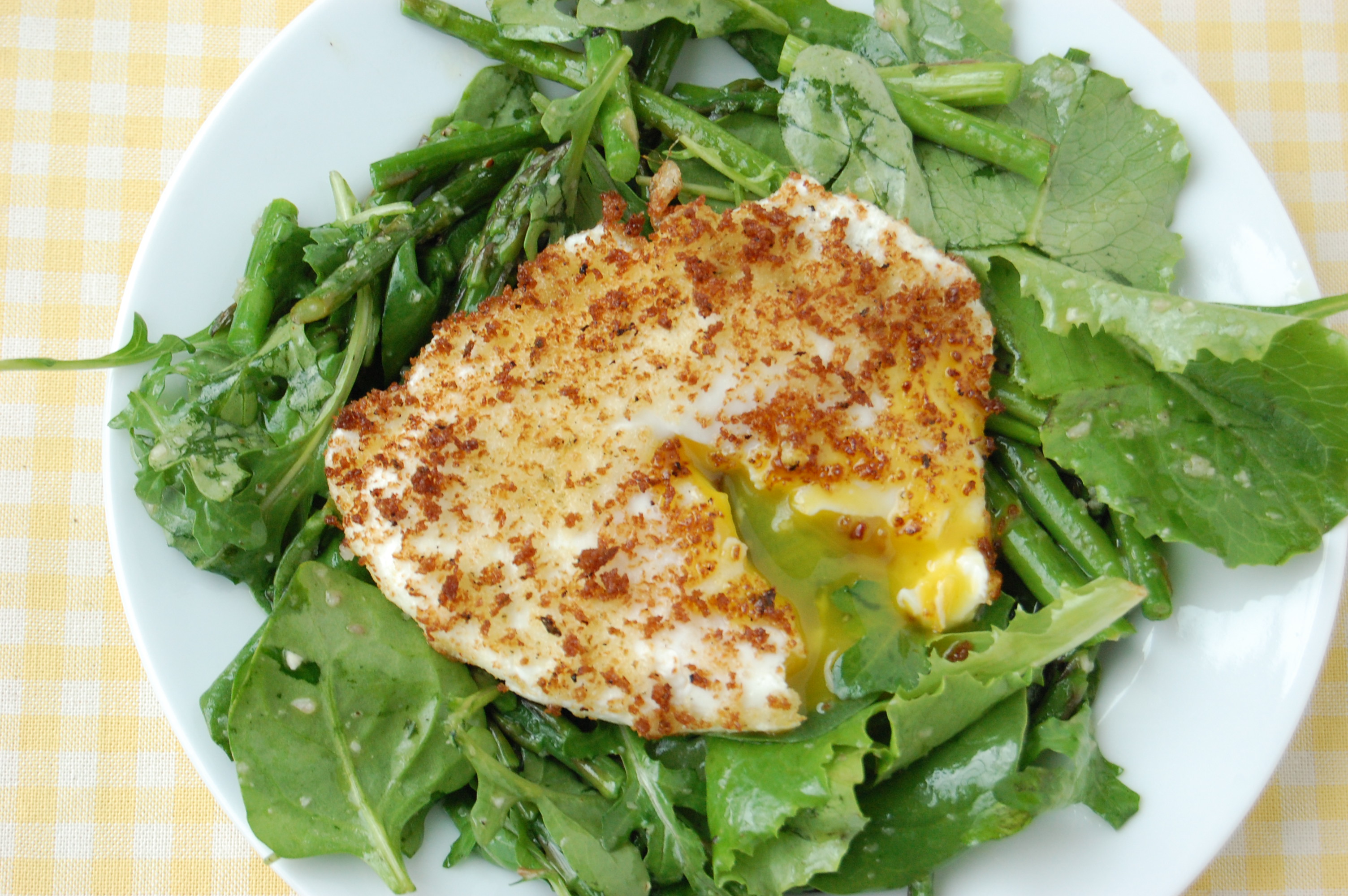 4 cups arugula
1 bunch of asparagus

olive oil
kosher salt
fresh ground pepper
6 eggs
1 T. white vinegar
1 clove garlic
1 shallot
1 t. chopped chives
juice of 1 lemon
3/4 cup olive oil
1 T. water
2 c. breadcrumbs
2 c. canola oil
Preheat oven to 350. Wash and trim asparagus. Place on cookie sheet. Drizzle with olive oil and sprinkle with kosher salt and fresh ground pepper. Place in oven. Roast until asparagus is bright green, can be pierced with a fork, but is still crunchy. About 5-7 minutes, depending on the thickness of asparagus. Remove from oven and let cool completely. Set aside.
Add about an inch of water to a skillet and heat until the water is boiling around the edges. Add 1 tbs. white vinegar and a sprinkle of salt. Add 4 eggs one at a time (you may need to work in batches) and cover. Poach for about 5 minutes, until whites are set, but the yolk is still soft. Carefully remove eggs from water with a slotted spoon and set aside on a plate. Chill in the refrigerator for about 20 minutes, until the eggs are completely cooled down and set.
In a food processor, mix garlic, shallot, chives, lemon juice, pinch of salt and fresh ground pepper until smooth. Keep food processor running and stream in the olive oil. Process for 30 seconds.
Heat canola oil in a small pot on medium high heat until just smoking. In a small bowl, whisk 2 remaining eggs and 1 T. water. Place the breadcrumbs in a small pie plate. Using a slotted spoon, dip the poached eggs one at a time in the egg batter and dredge in breadcrumbs. Still using the slotted spoon, plunge the poached egg in the hot oil for 10 seconds, then pull it out with another slotted spoon and place on paper towels. Repeat with each poached egg.
Chop the asparagus into bite-sized pieces and toss with the arugula. Drizzle with vinaigrette and plate for individual servings. Place an egg on top of each salad.
Serves 4.