What's better on a cold day than some creamy, dreamy mac and cheese? Add just a hint of blue cheese and some crunchy walnuts and it's divine. The caramelized onions add a sweet touch to the dish that pushes it over the top into food nirvana. I hope you love it.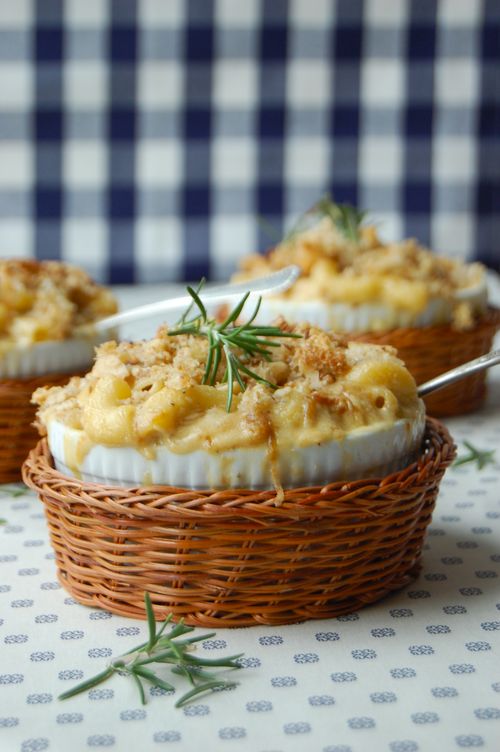 1/2 cup butter
2 large yellow onions, thinly sliced
1 tablespoon of sugar
Kosher salt
Fresh ground pepper
1/3 plus 1 tablespoon flour

4 tablespoons butter
3 cups of whole milk
2 cups of heavy cream
1 cup of half and half
12 oz. cheddar cheese, shredded
1/4 lb of stilton cheese, crumbled
4 cups uncooked large macaroni noodles
Directions
In a sautee pan, melt 1/2 cup of butter and add yellow onions. Season with salt and pepper and sugar and let cook over medium heat, stirring occasionally for 45-50 minutes, until onions are golden brown and are almost the texture of jam or preserves. Set aside.

In a large pot, melt the 4 T. of butter. Add flour and mix with butter until it turns to a paste and cook for 2-3 minutes. Very slowly add milk, whisking constantly to avoid getting lumps. When all the milk is added, whisk in the cream and half and half. Add kosher salt and fresh ground pepper to taste. Cook for about 10 minutes, until liquid is thickened and simmering. Turn the heat off and add the cheese, whisking until cheese is melted.
In a separate pot, heat water for pasta. When water is at a rolling boil, add a handful of kosher salt and the pasta. Cook for 6 minutes, then drain (but do not rinse) – the pasta won't be cooked all the way, but it will finish cooking in the oven. Add the pasta to the cheese sauce. Stir in the caramelized onions.
The Finish

2 thick slices crusty bread, cubed
1 cup of walnuts
palm full of Romano cheese
salt and pepper
In the food processor, add the breadcrumbs, walnuts, Romano cheese and salt and pepper. Pulse one or two times until blended, but still chunky.
Pour pasta and cheese sauce into a 9 x 11 pan. Sprinkle the walnut mixture over the top, as much or as little as you wish. Bake for 25 minutes at 350 degrees. Let sit for 10 minutes before serving.
Yield: 6 servings
Fabrics from Bolt. Ramekins from Sur La Table. Utensils are vintage. Photos by Chelsea Fuss. Recipe + text by Elizabeth Fuss.