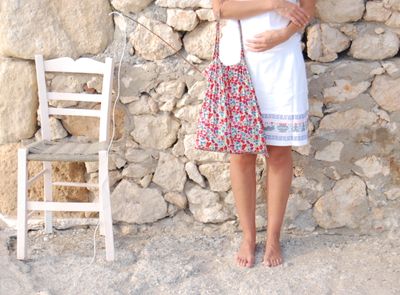 For the past two weeks, I've been in Crete with four friends (Jenny, Lizzy + Amber). I feel like we didn't quite discover the real Crete until the last day or so but it was lovely all around (despite getting almost all of my clothes locked up forever at a laundromat!)  Here are a few favorites:
–Our apartment. Lovely. Charming. Cheap. I already miss opening up the windows, "Room with a View" style every morning.
-Eating lots and lots of yogurt + honey +  also dolmas made by my friend Jenny.
-Road trips through scary cliffs and stunning views in our rented Fiat.
– Rummaging through antique textiles at this shop + viewing more at the Folklore Museum.
-Discovering a secret garden.
-Swimming at Elafonisis. Pink sand. Aqua, clear water. A heavenly beach!
-Encountering herds of goats and sheep in the road.
-Having an entire village run out of their houses to give us directions!
-Sneaking into an orange grove and eating fresh picked oranges!
Goodbye, Crete! I miss you already!
Photo of my friend Amber. She is wearing a traditional Cretan apron! Also the bag is Eliza Gran. More photos on my Flickr.