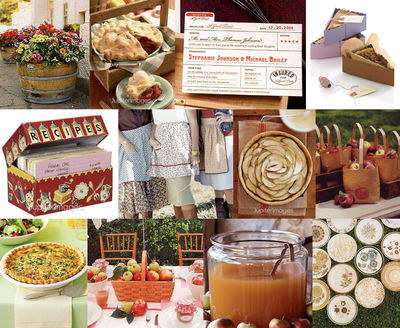 Sure, you
can have pie in any season – cream pies in winter, lemon pies in
spring, berry pies in summer – but there is something about fall that
just begs for pie. Apple, pear, pumpkin, sweet potato, pecan. Pie is
really a symbol of fall, so why not host a pie party? Taking your cue
from the traditional holiday cookie exchange party, ask guests to each
make their favorite pie. Set up a pie buffet, swap recipes, and let
guests take home slices. Not only is it delicious and a good excuse to
get together, but it's also a great way to get new pie recipes for the
upcoming holidays.
When: On a weekend afternoon.
The invitations:
Send invitations that look like recipe cards, inviting guests to bring
their favorite pie along with several copies of the recipe.
The place: If it's sunny and warm enough, take advantage of it by setting up outdoors. If it's too wet or rainy, move things indoors.
The food:
Pie! You might want to provide one or two savory pies so that guests
can make a meal of it – tarts and quiches count! – and set up a buffet
of all the offerings. If a pie buffet isn't decadent enough, set out
bowls of whipped cream to top things off.
The decor: Set
planters of fall flowers at your door – chrysanthemums are a good
seasonal choice. Fill a basket with apples for a centerpiece that's as
inspired by fall as apple pie. For a touch of kitsch, set mismatched
plates from the 1960s at the buffet and place recipe boxes at each seat for guests to take home with them when they leave.
Other details:
If you're handy with a sewing machine, aprons are a simple project and
a fitting gift for your guests. Choose patterned fabric and embellish
it with ric rac or ribbon. If you've gone apple picking recently, a pie
party is a great place to dole out those bags of apples – and know
they'll go to good use. Finally, make little boxes for guests to take
home individual pie slices – line them with parchment paper and tie them with twine for a truly special touch.
Top row from left: planters from Martha Stewart Weddings, pie photo from Jupiter Images, recipe card invitation by Chewing the Cud, take-home pie slices from Martha Stewart
Row 2: recipe box photo from Jupiter Images, aprons from Country Living, apple tart photo from Jupiter Images, bags of apples from Martha Stewart Weddings
Row 3: quiche from Martha Stewart, table by Chelsea for Once Wed, apple cider from Callahan Catering, mismatched plates from Martha Stewart Weddings
By Kathryn of Snippet & Ink.