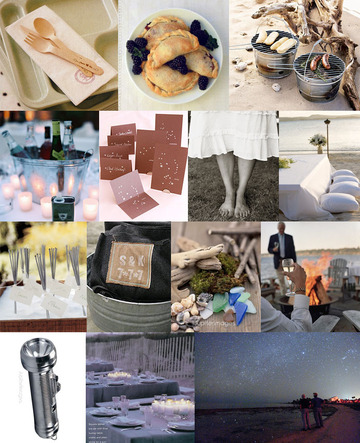 I grew up
spending summers in Montana, and one of my favorite things was when my
whole family (that's a lot of us) piled into our ugly (no really, it
has brown shag on the dash) 1985 Suburban and went out to the middle of
nowhere (even more middle of nowhere than we already were in) to watch
for satellites and shooting stars. Add the beach, some food, and
sparklers, for an equally fun (if slightly more organized) summer
get-together for everyone.
Click here for party plan and details.
Top row from left: birch utensils from Paper+Cup, blackberry hand pies via Gourmet Girl, portable grills from Pottery Barn
Row 2: photo by Timothy Lee, constellation cards from Martha Stewart, photo by One Love,
cushions on beach from Todd Events
Row 3: sparklers from Country Living, patched Army
blankets via Black Eiffel, driftwood and seaglass
from Jupiter Images, photo by One Love

Row 4: flashlight photo from Jupiter Images, table settings by Karen
Bussen, photo from Cosmos Jon's
flickr
By Kathryn Storke of Snippet & Ink.