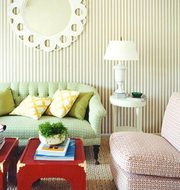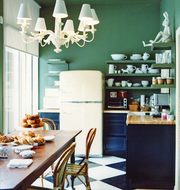 If you are in the midst of decorating, I might recommend reading these ten tips from decorators at Domino. I feel silly that it took me 4 months to realize this one (considering that I used to give this advice to event clients constantly):

4. work with what you've got: Play
up a room's assets. If it has high ceilings, put up really tall
curtains. If it's a dark box, don't try to alter it—painting it bright
white will only make it seem dingy; instead, go for cozy.
Duh! I need to decorate with cozy colors. I live in a dark box with practically no natural light. The watercolor palette is not going to work. Lots of people have asked me to post pictures of my apartment and I would love to when I have it finished or maybe even started. I was changing my mind practically daily about the choices until I realized the above. Now I can get to work with my teensy tiny budget:) Above are some of the new colors I am thinking about. I've tried out the spring green color and it makes the whole place pop. {pics from Domino}