Fall is all about color… and food. Pretty much my favorite time of year. The trees are really starting to pop in Vermont and once again, I am in awe of the range of hues they produce. I created these Pantone-inspired place cards to bring the best of fall colors to the table (minus the cornucopia). They are really easy to make.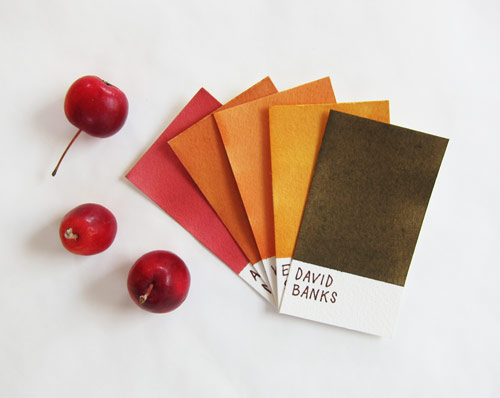 Supply list: watercolor paper (I used 9″ x 12″ sheets), Xacto knife, gouache or watercolor paint, blue painter's tape, paintbrush, brown marker. Optional: mini kraft bags, mini clothespins.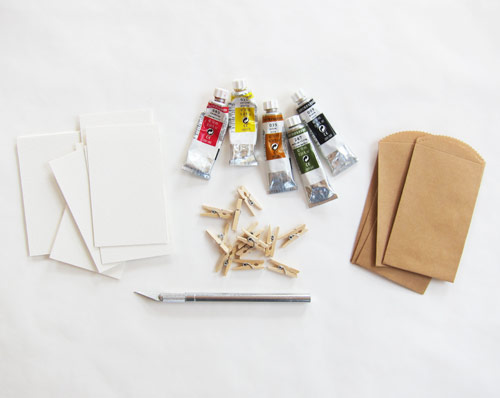 Cut up the watercolor paper into 2.25″ x 3.75″ rectangles. These will fit perfectly into the kraft bags. I was able to get 12 cards from one 9″ x 12″ sheet so if you're having a small dinner party, it's maximum reward for minimal effort.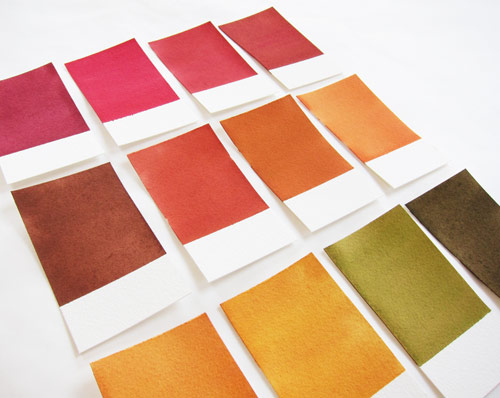 Apply a piece of painter's tape along the bottom of each card. The width of the tape creates just the right amount of white space for writing. Paint each card a different fall shade (easiest route is to mix as you go, starting with lightest to darkest). Once the paint is dry, peel off the painter's tape. Write your guest's names or table numbers in the white area, left-aligned + stacked similar to Pantone chips. Eat lots of pie.
For smaller parties, you can write the guest names on each card + place directly on the table at each setting. For larger events, write the table numbers on the cards and label the guest names on the mini kraft bags instead. Hang each bag on twine or rope using the mini clothespins.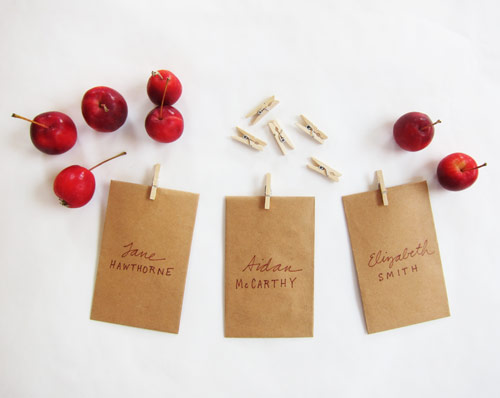 Photos, concept and styling by Annemarie Buckley for Frolic!