Since our summer in the Pacific Northwest has been non-existant, we came up with some fun projects to keep our kids occupied- everything from cardboard vultures to lumberjack shows, to paper kites that didn't really fly!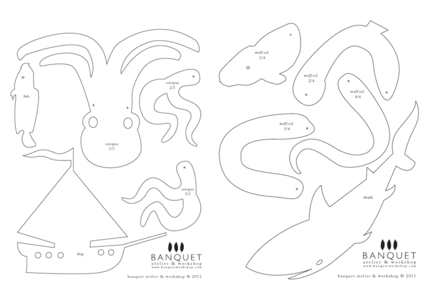 One of the projects we are most proud of is the shadow puppet kits that we made in collaboration with
Collage Collage
, a contemporary art space for children in Vancouver. We decided to re-visit this idea and make some shadowy versions of the denizens of the sea, We've included the template for an octopus, a shark, a wolf eel and a ship. Get inspired and elaborate with props and other sea creatures, the sun and waves, etc.
You will need:
– the template (Download here)
– construction paper or card stock
– sticks (we use barbecue skewers. thin doweling and popsicle sticks also work)
– tape or glue
– paper fasteners
– a hole punch for the eyes and other details
– a bed sheet or vellum paper and a flashlight (optional)
Step 1:
Download template and print.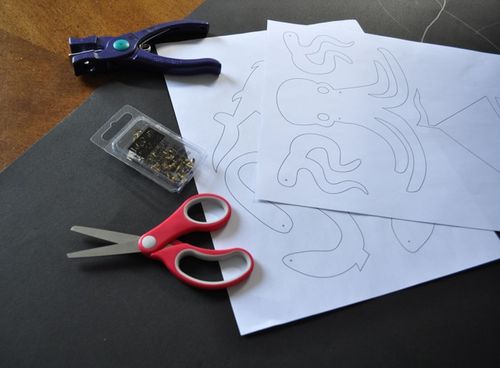 Tell a tall tale of ships being attacked by giant octopuses, eels and sharks falling in love, etc.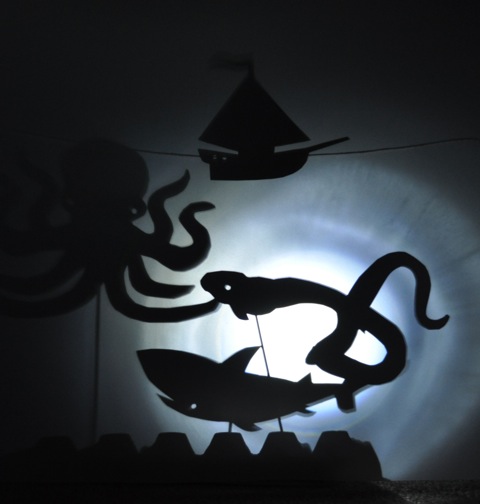 Enjoy!