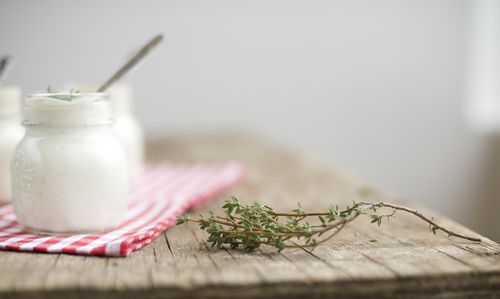 Crème Fraiche
2 cups heavy cream
4 T. buttermilk
Combine and stir together in a bowl. Loosely cover the bowl with plastic wrap and let sit at room temperature for 24 hours. After 24 hours, pull back cover and stir again. Re-cover and place in fridge to chill for 24 hours. It should be thickened by now and have a slightly tangy flavor – perfect for topping strawberries, or putting in a savory dish.
A few flavors to try:
Roasted Tomato and Basil
1 c. crème fraiche
2 slices roasted tomatoes
4 fresh basil leaves
Salt and pepper to taste
Lemon and Dill
1 c. crème fraiche
Juice and zest of one lemon
1 sprig of dill, off the stem
Salt to taste
Avocado
1 c. crème fraiche
1 avocado, pit removed and scooped out of skin
1 tsp. lime juice
Salt to taste
For all of these flavored versions of crème fraiche, the directions are the same: Combine all ingredients in the food processor and pulse until mixture is smooth. It should only take about 30 seconds or so. Enjoy!
Recipe by Elizabeth Fuss. Photograph by Lisa Warninger. For Frolic! Styling by Chelsea Fuss.