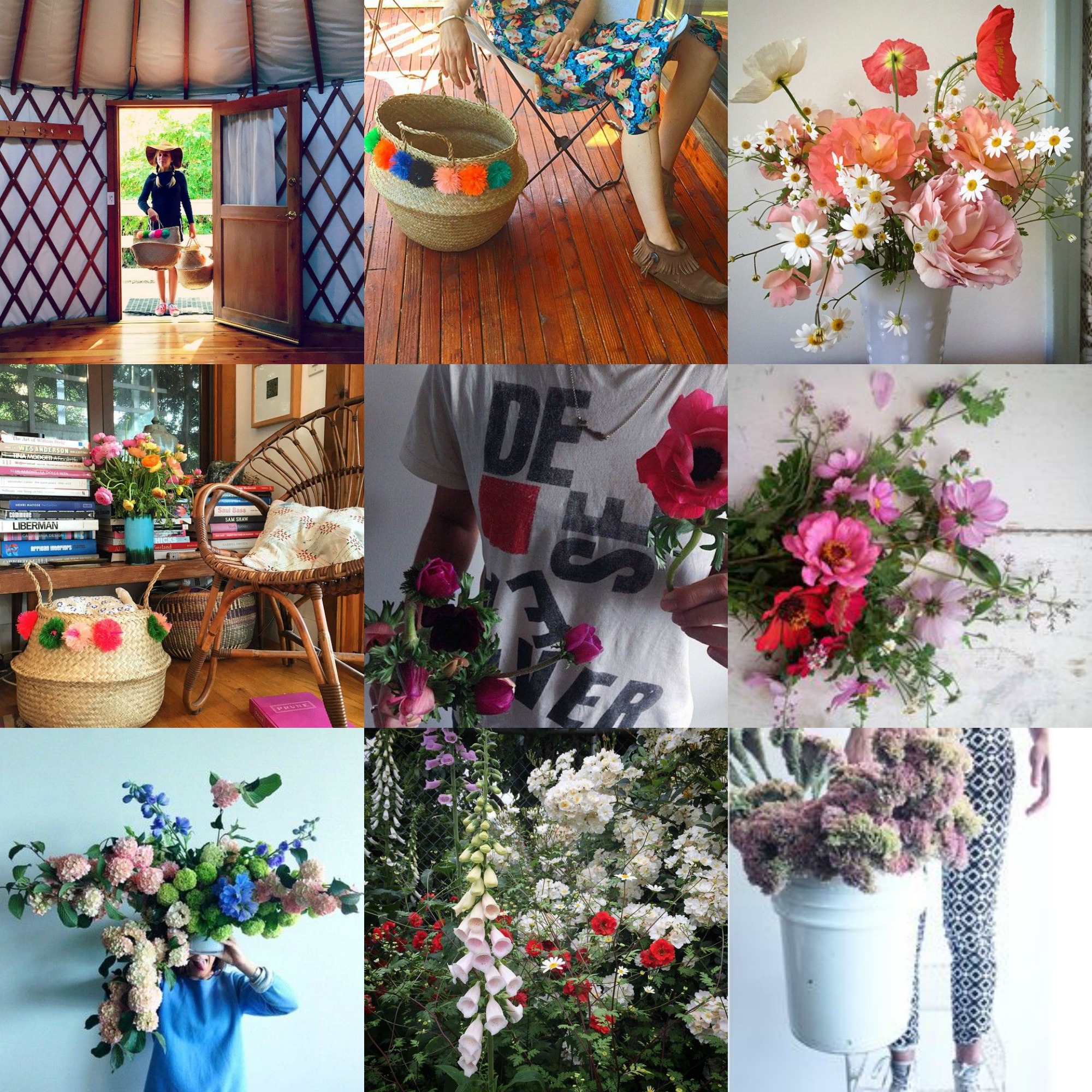 I love going to Instagram to get inspired, chat with friends, and see what people around the world are doing. Of course, I love the flower-grammers, of which there are many! Currently I have three that are super inspiring to me because of they are perhaps a bit under the radar and gramming in a fun, friendly, out-of-the-box way! Since I spend a lot of time on social media, I tend to be drawn to accounts that are not too serious, offer something new or interesting as far as design, and make me feel happy when I visit.
Eliza Gran: I've followed this former New Yorker for years (lots of posts here and her old house here). I was always a fan of her children's clothing line and now her new life in Venice, California, has me intrigued. Eliza shares her adorable pom pom baskets with her children as models hanging out under bougainvillea vines, snaps of her super cool home which features patterns on pattern and lots of pink, farmer's market finds, as well as her inspirations in midcentury design, artists studios, Mexico, and more. Of course she makes killer flower arrangements which hang out in the most charming vignettes in her home filled with Mexican textiles, midcentury rattan furniture, and stacks of art books. I hope it's ok, Eliza, but your Instagram is the inspiration for my new apartment! Visit and and follow here.
Fieldwork Flowers: I am always watching florists as I spent over 10 years working as a floral designer. My top favorite at the moment is Fieldwork Flowers in Portland (you must visit her Moody Ave. shop in SW Portland!). Megan, has been on the floral scene in Portland for years and years and is one of the hardest working florists I know. A few years ago she paired up with a business partner who has a background in the fashion industry, and the two of them together make absolute magic. Her branding and style is fresh, fun, not too serious, and never twee (hard to do with flowers!). I love the slightly punk vibe. The best part, Megan always uses local flowers and has amazing relationship with farmers so she's finding the freshest, local stems. I love this modern approach to flowers. For years we've seen these fussy, vintage and baroque trends in flower arranging, which are amazing as well but for me, this not-too-serious modern approach is the most interesting to me at the moment. I especially love how Megan experiments with large-scale arrangements. Visit and follow here.  (see two previous features on Megan here and here!)
Fir and Flora: "Amateur Botanist", Jen, is a personal friend and a flower kindred spirit. I've been to her house for tea and violet crumbles with violet jam. It was like visiting Mrs .Honey's cottage in Matilda. Her off-beat, grow as you will, cottage garden is IT! She once gave me a tour, showing me which weeds I could eat. Any gardener who leaves weeds in their garden for salad, is a friend of mine! When I was away, Jen sent me a hand-illustrated flower card of all the latest blooms in Portland. Her photos are simply stunning with still lives of stems on her cottage kitchen table, unfussy garden arrangements, and violet obsessed grams ( a winner with me since it's my favorite flower!) Visit and follow here.
Photos: 1,2,4: Eliza Gran. 3,6,8: Fir and Flora. 5,7,9: Fieldwork Flowers.