I saw Band of Horses perform at Pioneer Square on Sunday night. Pioneer Square is Portland's "living room" right in the center of downtown so this was really special and the venue felt surprisingly cozy since I stood up front like a dorky fan. Though Band of Horses has been around for a while now and their music is widely played, I am honestly not tired of them.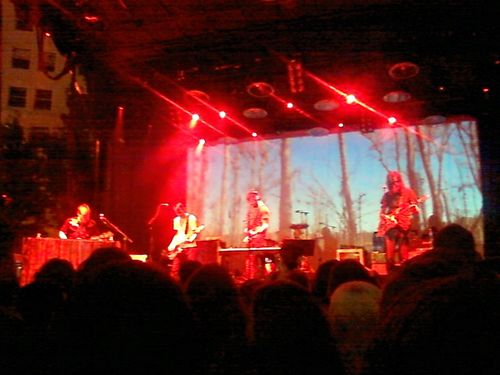 Their live performances are always spot on and the set design this time around was simply fantastic. Christopher Wilson shoots all their photography for the stage backdrops and works as their art director. I love love the effect of all the "lumberjacks" on stage singing with the nature scenery behind them. New fantasy: Move to a little hut in Appalachia! Ben Bridwell wrote this song for his daughter, Annabel and the elk video played in the backdrop while he sang. Ahhh. So sweet.  Here's my really bad camera phone photo of the stage.
As a side note: This concert was on the 10th anniversary of Sept. 11th and it felt reassuringly beautiful, after a morning of watching some of the memorials, to watch Ben sing the lyrics "the world is such a wonderful place", with a huge smile on his face.
Video by Band of Horses/Christopher Wilson and found on You Tube. Bottom snapshot: Chelsea Fuss.