I had the pleasure of working on a super sweet wedding a few weeks ago at the David Hill Winery. Emily Henderson (newly crowned HGTV girl!) was the art director for the event since the lovely bride and groom, Nicole and Curtis, are her friends. Emily asked me to cover the floral styling and I happily obliged. I don't have photos from the whole event but Lisa from Nightingale Photography followed Lauren and me around while we set up. Thank you, Lisa! 
I loved Emily's vision. She created a space in the yard with a dance floor in the middle and around it square, round, and long tables with globe lights decorating all around. The tables were covered in white cloths, and/or patterned runners and overlays. We mixed and matched the centerpieces with mason jars and bud vases stuffed full of seasonal garden roses, loosetrife, blackberries, grasses, wax flower and any other flower or weed that caught our fancy. Floral designer Laurie Wahlstrom assisted me the day before hand filling over 75 mason jars!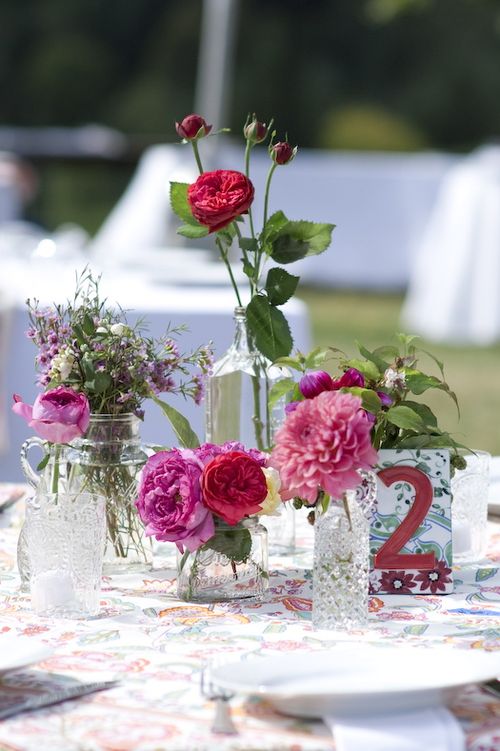 The bouquets were wrapped with torn linen and for the bride, a vintage floral scarf! The result was romantic and effortless, as if we just grabbed everything from the cupboards last minute! I am sure Emily will also have a recap on her blog so check over there soon! 
Art direction: Emily Henderson. Floral design and styling: Chelsea Fuss. Photography: Lisa Warninger for Nightingale Photography. Floral Assistant: Laurie Wahlstrom. Styling assistant: Lauren Willhite. Bridesmaid dresses: BCBG + Nordstrom. Bridal Gown: Divine Designs. Tablecloths: Cost Plus. Mason Jars: Craigslist. Flowers: Peterkort Roses + Portland Flower Market (trade only). Votive holders + tiles: Anthropologie. Location: David Hill Winery. Catering: Art of Catering.