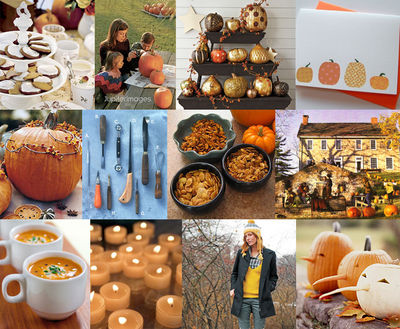 Top row from left: molasses cookies from Country Living, photo from Jupiter Images, painted pumpkins via Inspired Room, pumpkin card by Winifred Studios Row 2: photo via All Things Lovely, carving tools from Martha Stewart, pumpkin seeds from Southern Food, photo from Martha Stewart Row 3: pumpkin soup in mugs from Spa Flyer, votives photo from Jupiter Images, photo from J.Crew, carrot-nosed pumpkins from Martha Stewart
Click here for Party Details & Plan.
All week, I will be posting Fall Party Boards from Kathryn of Snippet & Ink. She created these just for us! Thank you, Kathryn!