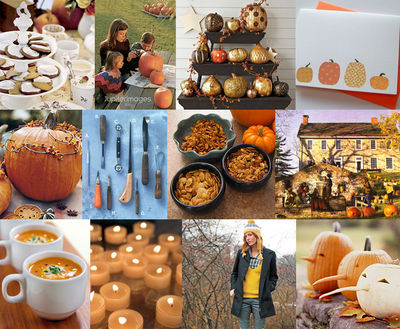 The last time I carved a pumpkin was with my kindergarten class. I cut the top off, and then let each student help me scoop out the insides. Most of them had never carved a pumpkin before, so this was an extra special occasion – and it reminded me how fun it is! No matter how grown up I get, decorating with pumpkins for Halloween or Thanksgiving never gets old. There are so many ways to turn pumpkins into a decorative element (including setting one untouched onto the porch), both child-friendly and more sophisticated, that it's impossible to get bored with them. Invite friends over for a pumpkin carving party, and get everyone into the fall spirit.

When: One of those perfect, sunny fall days.
The invitations: You can make your own, cutting pumpkin shapes out of a variety of patterned orange paper, or order these darling pumpkin note cards by Winifred Studios. Mail them in an orange envelope, or a white envelope with a liner of patterned paper.
The place: Your backyard, with picnic tables covered in newspaper.
The food: Serve your guests pumpkin or butternut squash soup in mugs, so that they're easy to eat while hanging out in the backyard. Have bowls of pumpkin seeds in various flavors – like curry, sweet and salty, chili, cinnamon sugar, or garlic – around for snacking, along with some iced molasses cookies. You might also want to have some cellophane baggies so that your guests can take leftover treats home with them (unless, of course, you don't mind munching on them yourself!).
The decor: Because you and your guests will be carving pumpkins, it makes the most sense that pumpkins can also serve as the decor. Pile them together, adorn them with bittersweet, paint them gold, or line the walk to the backyard with them. Cover the table with newspaper, and place "bouquets" of carving tools in jars so that they're easy to find when one person finishes with a tool.
Other details: Rather than asking guests to clean out pumpkins – which creates a huge mess, and takes up a chunk of time – scrape out the guts of enough pumpkins ahead of time, so that each guest has at least one to work on (this also provides the seeds for snacking). Don't just stick with the classic jack-o-lantern faces. Provide carrots to give the pumpkins noses, or print out a few templates to carve monograms, spooky silhouettes, or lacy lanterns. Send each guest home with their pumpkin, and a small baggy of votive candles.
Top row from left: molasses cookies from Country Living, photo from Jupiter Images, painted pumpkins via Inspired Room, pumpkin card by Winifred Studios
Row 2: photo via All Things Lovely, carving tools from Martha Stewart, pumpkin seeds from Southern Food, photo from Martha Stewart
Row 3: pumpkin soup in mugs from Spa Flyer, votives photo from Jupiter Images, photo from J.Crew, carrot-nosed pumpkins from Martha Stewart
By Kathryn of Snippet & Ink