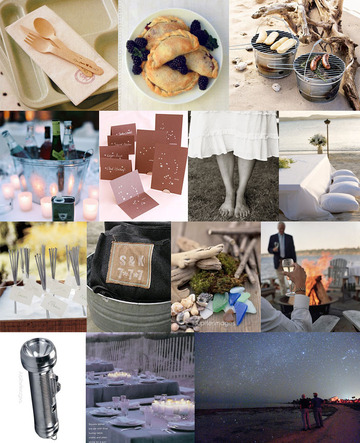 Top row from left: birch utensils from Paper+Cup, blackberry hand pies via Gourmet Girl, portable grills from Pottery Barn
Row 2: photo by Timothy Lee, constellation cards from Martha Stewart, photo by One Love,
cushions on beach from Todd Events
Row 3: sparklers from Country Living, patched Army
blankets via Black Eiffel, driftwood and seaglass
from Jupiter Images, photo by One Love

Row 4: flashlight photo from Jupiter Images, table settings by Karen
Bussen, photo from Cosmos Jon's
flickr
Star-Gazing Beach Cookout
I grew up
spending summers in Montana, and one of my favorite things was when my
whole family (that's a lot of us) piled into our ugly (no really, it
has brown shag on the dash) 1985 Suburban and went out to the middle of
nowhere (even more middle of nowhere than we already were in) to watch
for satellites and shooting stars. Add the beach, some food, and
sparklers, for an equally fun (if slightly more organized) summer
get-together for everyone.
When: You should be able to see meteors anytime, but
for even more than usual, the 2008 Perseid meteor shower happens around
August 12. Check out page 241 in Real Simple this month for tips on
stargazing. It says -" Look for the new moon, the darkest sky and the
brightest stars on these
summer nights:
June 3
July 2
August 1
August 30"

The invitations: Send out invitations with constellations or a
telescope stamped on them, to give guests an idea of what's in store.
You could even include a map of the night sky.
The place: Find somewhere on the beach away from
major city lights – you can't see the stars unless it's dark dark dark!
Of course, it doesn't have to be on the beach, but if you've got one
nearby, why not?
The food: Grill out (these portable grills from Pottery Barn
seem way easier to tote around than a big old barbecue – they even have
a handle!), and offer guests lots of yummy condiment options, like a
variety of mustards and relishes. For dessert, hand pies are a
delicious and convenient idea. The fewer utensils needed at an outdoor
meal, the better (but if you do need them for something like salad, and
you don't want to deal with real silverware, go with eco-friendly bamboo or birch ones). Keep buckets of drinks nearby.
The decor: It's nature! It doesn't need much to
pretty it up! Set out blankets or cushions for guests to sit on.
Decorate tables with found items like driftwood and sea glass, along
with small votive candles. You could even ask that guests add found
items while you're manning the grill.
Other details: After dinner, but before it gets dark
enough for stargazing, sit around a small bonfire and tell stories.
Light sparklers and give flashlights as favors to any children who
might be there. Make sure you've brought enough blankets for everyone,
in case it starts to get cold, especially if you want everyone to stick
around long enough for the stars to come out.
By Kathryn Storke of Snippet & Ink.